Readability and Thematic Manipulation in Corporate Communications: A Multi-Disclosure Investigation
(2015)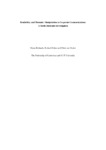 View/Open
Publisher
University of Canterbury. Department of Accounting and Information Systems
Collections
Authors
Richard, G.
Fisher, R.
van Staden, C.
show all
Abstract
This study investigates the prevalence of two significant impression management strategies, thematic manipulation and reading ease manipulation, across a range of distinct corporate narrative communications and explores the determinants of such practices. Prior studies have tended to examine impression management strategies independently. Further, studies typically only consider a single disclosure type. This suggests that research has overlooked the fact that managers are likely to consider a range of alternative disclosures and impression management approaches in developing their disclosure strategies. By considering a range of both disclosure types and impression management strategies, this study attempts to uncover important interrelationships between these factors, thereby enriching our understanding of corporate disclosure strategies. A sample of 824 disclosures made by listed companies in Australia and New Zealand is examined. The disclosures include key narratives typically contained in annual reports including the chairman's letter, management's discussion and analysis, the notes to the accounts, and any embedded Corporate Social Responsibility (CSR) report. Additionally, narratives contained in separately issued CSR reports were studied. The study finds weak evidence of readability manipulation obfuscating the disclosures of poorer performing companies. However, the themes within the disclosures of poorer performing companies tended to closely mirror those of more well performing companies – an observation consistent with the Pollyanna principle. The study also finds that disclosures with a positive tone are more readable than those with a negative tone, a result consistent with the obfuscation hypothesis. CSR reports are found to be more readable than annual reports in general and have significantly different thematic characteristics. Interestingly, CSR disclosures in annual reports differed considerably in terms of their readability from their counterparts in dedicated CSR reports.
Citation
Richard, G., Fisher, R., van Staden, C. (2015) Readability and Thematic Manipulation in Corporate Communications: A Multi-Disclosure Investigation. Hobart, Australia: 2015 AFAANZ Conference, 5-7 July.
This citation is automatically generated and may be unreliable. Use as a guide only.
ANZSRC Fields of Research
15 - Commerce, Management, Tourism and Services::1503 - Business and Management::150303 - Corporate Governance and Stakeholder Engagement
15 - Commerce, Management, Tourism and Services::1503 - Business and Management::150312 - Organisational Planning and Management
15 - Commerce, Management, Tourism and Services::1503 - Business and Management::150301 - Business Information Management (incl. Records, Knowledge and Information Management, and Intelligence)
Related items
Showing items related by title, author, creator and subject.
Amoako KO

;

Lord BR

;

Dixon K

(

2017

)

Purpose – Sustainability reporting serves as a means of communication between corporations and their stakeholders on sustainability issues. This study aims to identify and account for the contents of sustainability ...

Welschen, Judith

;

Todorova, Nelly

;

Mills, Annette

(

2013

)

Organisations invest heavily in knowledge management technologies and initiatives which are entirely dependent on the willingness of employees to share their knowledge. Educational and reward programs need to be informed ...

Masselot, A.

;

Kamalnath, Akshaya

(

University of Canterbury. Department of Accounting and Information Systems

,

2015

)

Aim: To critically engage with the concepts of gender balanced representation on corporate boards; gender equality and quotas. Compare and contrast the application of such concepts within the EU legal framework and Asian ...