Column Base Weak Axis Aligned Asymmetric Friction Connection Cyclic Performance
(2015)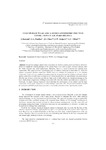 View/Open
Type of Content
Conference Contributions - Published
Publisher
University of Canterbury. Civil and Natural Resources Engineering
University of Canterbury. Mechanical Engineering
Collections
Authors
Borzouie, J.,
MacRae, G.A.,
Chase, J.G.,
Rodgers, G.W.,
Clifton, G.C.
show all
Abstract
Recent low damage studies have been made on beam-to-column joints and braces. However, if there is significant yielding damage at the column bases, even with no upper structure damage, then the whole structure may need replacement. Therefore, there is a need to develop low damage base connections. This paper presents experimental tests of columns connected to base plate by weak axis aligned asymmetric friction connection (WAFC base) to evaluate if it performs as a low damage connection. Cyclic tests are conducted in-plane about the strong axis, and out-of-plane with and without applied axial force to drift ratios as high as 4%. Observations from the experimental tests demonstrate that this type of base connection can tolerate high levels of drift without any significant damage at the base. Some flange compressive yielding occurs especially when the column was subjected to axial force. Generally, no major damage happened which interrupt the performance of the column and the base connection, and it can be categorized as a low-damage connection. Also, the presented analytical model for estimation of WAFC performance provides a reasonable estimation of the experimental results.
Citation
Borzouie, J., MacRae, G.A., Chase, J.G., Rodgers, G.W., Clifton, G.C. (2015) Column Base Weak Axis Aligned Asymmetric Friction Connection Cyclic Performance. Shanghai, China: 8th International Conference on Behavior of Steel Structures in Seismic Areas (STESSA 2015), 1-4 Jul 2015. 8pp.
This citation is automatically generated and may be unreliable. Use as a guide only.
Keywords
Asymmetric Friction Connection,; WAFC; Low Damage Design
ANZSRC Fields of Research
09 - Engineering::0905 - Civil Engineering::090506 - Structural Engineering
09 - Engineering::0905 - Civil Engineering::090504 - Earthquake Engineering