Response analysis of hybrid damping device with self-centring
(2015)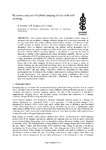 View/Open
Type of Content
Conference Contributions - Published
Publisher
University of Canterbury. Mechanical Engineering
Collections
Authors
Kordani, R.,
Rodgers, G.W.,
Chase, J.G.
show all
Abstract
Lead extrusion dampers have been used to dissipate seismic energy in structures and can contribute to damage avoidance design (DAD) rocking connections. In rocking connections that utilises unbound post-tensioned tendons, re-centering of the overall structure is typical. However, the lead extrusion dampers alone are strictly dissipative, have no inherent self-centering and without careful integration into a structural system can lead to residual story drifts. In this study a modified version of High Force-To Volume (HF2V) extrusion damper is introduced to overcome the lack of inherent re-centring, while maintaining the energy absorption capability. The new device is a combination of HF2V and ring spring dampers to provide an overall device with large energy dissipation and inherent self-centering. Response spectral analysis for multiple, probabilistically scaled earthquake suites are used to delineate the displacement reduction factors due to the added damping. Hysteresis analysis of the device under a variety of seismic loadings are also performed and design plots are provided for different sized dampers. Overall, the results indicate an important trade-off between force contributions from the HF2V and ring spring components. Moreover, increasing the ring spring participation force level leads to less residual displacement in exchange for less reduction in peak displacement. This approach of larger ring spring contributions shows less dependence on the structural period, indicating a robustness of the design to a broad spectrum of ground motion inputs.
Citation
Kordani, R., Rodgers, G.W., Chase, J.G. (2015) Response analysis of hybrid damping device with self-centring. Rotorua, New Zealand: 2015 New Zealand Society for Earthquake Engineering Annual Conference (NZSEE), 10-12 Apr 2015. 8pp.
This citation is automatically generated and may be unreliable. Use as a guide only.
ANZSRC Fields of Research
40 - Engineering::4005 - Civil engineering::400506 - Earthquake engineering
40 - Engineering::4005 - Civil engineering::400510 - Structural engineering