Response prediction and parameter identification for base-isolated buildings with limited sensors
(2015)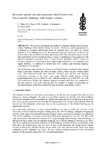 View/Open
Type of Content
Conference Contributions - Published
Publisher
University of Canterbury. Mechanical Engineering
Collections
Authors
Zhou, C.,
Chase, J.G.,
Rodgers, G.W.,
Kuang, A.,
Xu, C.
show all
Abstract
This research investigates the method of parameter identification for base-isolated buildings with a limited number of sensors. The base-isolated superstructure is considered as separated substructure from the isolation layer that shifts the natural frequency of the building away from the dominant frequency components of the ground motion, and is thus modelled as a shear type linear model. The structural response for the unrecorded floors are first predicted using a system of simultaneous linear equations with unknown parameters presented. Then a Gauss-Newton algorithm, which is based on solving a sequence of linearization least squares approximations to the nonlinear least square problems, is employed to identify the story stiffness and Rayleigh damping coefficients of the structure. The performance and robustness of the proposed identification method is demonstrated using a simulated structure and different initial guesses, both with and without added noise. The numerical results show that the estimated story stiffness and damping coefficients converge to the exact value using different initial guesses without measurement noise, and are robust to noise with the average error within 16% even with 10% added noise. Finally, the estimated response for unrecorded floor are compared to the true response. The results indicate that the method is capable of predicting the structural response of the base-isolated building accurately using limited sensors.
Citation
Zhou, C., Chase, J.G., Rodgers, G.W., Kuang, A., Xu, C. (2015) Response prediction and parameter identification for base-isolated buildings with limited sensors. Rotorua, New Zealand: 2015 New Zealand Society for Earthquake Engineering Annual Conference (NZSEE), 10-12 Apr 2015. 8pp.
This citation is automatically generated and may be unreliable. Use as a guide only.
ANZSRC Fields of Research
09 - Engineering::0905 - Civil Engineering::090504 - Earthquake Engineering