Control of Structural Response with a New Semi-Active Viscous Damping Device
(2015)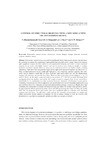 View/Open
Type of Content
Conference Contributions - Published
Publisher
University of Canterbury. Civil and Natural Resources Engineering
University of Canterbury. Mechanical Engineering
Collections
Authors
Khanmohammadi Hazaveh, N.,
Pampanin, S.,
Chase, J.G.,
Rodgers, G.W.
show all
Abstract
Semi-active control devices can perform significantly better than passive devices, but also have the potential to achieve the performance approaching that of a fully active system. Semi-active devices offer significant promise for their ability to add supplemental damping and reduce seismic structural response in an easily controllable manner, and can be used in some modes to modify or reshape hysteretic structural response. However, many current semi-active devices are highly complex, limiting robustness, while those that can generate larger forces suffer from increased response lag time to do so. Thus, an ideal semi-active device would offer high forces, low complexity, and fast response. The semiactive viscous dampers could offer all these properties and could reduce not only the displacement response of a structure, but also the base shear. There are three semi-active viscous dampers, a 1-4, 1-3 and 2-4 device. In this study, a spectral analysis over periods of T= 0.2-5.0 sec under 20 design level earthquakes from the medium suite of the SAC project is used to compare three device control laws individually or in combination to sculpt structural hysteretic behaviour. Performance is assessed by evaluating reduction factors (RFs) compared to an uncontrolled structure for maximum displacement (Sd) and total base-shear (Fb), indicative of structural and foundation damage, respectively. Results show that combining the control laws to reshape the hysteresis loop can reduce the median value of both Sd and Fb by approximately 30% for periods less than 3.0 sec and 20% for periods more than 3.0. Thus, the results show that the proposed device and control laws have significant effect to reduction both structural response and base-shear. Overall, these results indicate the robustness of potentially very simple and robust semi-active viscous dampers to mitigate the risk of seismic damage to both the structure and foundation in a way that is economically suitable for either new designs or retrofit.
Citation
Khanmohammadi Hazaveh, N., Pampanin, S., Chase, J.G., Rodgers, G.W. (2015) Control of Structural Response with a New Semi-Active Viscous Damping Device. Shanghai, China: 8th International Conference on Behavior of Steel Structures in Seismic Areas (STESSA 2015), 1-4 Jul 2015. 8pp.
This citation is automatically generated and may be unreliable. Use as a guide only.
Keywords
Semi-active control devices; Semi-active viscous damper; reshape hysteretic structural response reduction factors
ANZSRC Fields of Research
09 - Engineering::0905 - Civil Engineering::090504 - Earthquake Engineering