Moving towards a holistic paradigm: Teaching sexuality education in a New Zealand University
(2015)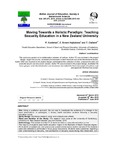 Type of Content
Journal Article
Publisher
University of Canterbury. School of Sport & Physical Education
University of Canterbury. School of Health Sciences
Collections
Authors
Cushman, P.
Brown Hajdukova, E.
Clelland, T.
show all
Abstract
Aim: Using a qualitative approach, the aim was to investigate the existence of a change in the basic assumptions, or paradigms, in tertiary health education students following a sexuality education course. Study Design: Qualitative research using Nvivo analysis was utilised. Place and Duration of the Study: The research took place at the University of Canterbury, Christchurch, New Zealand between July and October, 2014. Methodology: The sample included 21 students enrolled in a sexuality education course. The majority of students were health education majors in the Bachelor of Health Sciences degree. All students completed pre- and post-course questionnaires and a random sample of the students were also selected to participate in focus group discussions. Students were questioned regarding their understanding of sexuality, their perceptions of sexuality issues facing New Zealanders, and changes in their ideas about sexuality education resulting from the course. Results: Data analysis of the pre-course questionnaires and focus groups found students understandings and beliefs regarding sexuality education were mainly situated within a biomedical paradigm emphasizing the physical aspects of an individual's sexuality. Post-course data suggested a shift towards a more holistic understanding of sexuality, the development and appreciation of a broader understanding of sexuality issues facing New Zealanders, and a marked paradigm shift in ideas around the concept of sexuality. Conclusion: This study demonstrates that sexuality education programmes framed within a holistic paradigm and underpinned by sound pedagogical practices have the potential to facilitate an expansion of ideas and attitudes about the construction of sexuality education
Citation
Cushman, P., Brown Hajdukova, E., Clelland, T. (2015) Moving towards a holistic paradigm: Teaching sexuality education in a New Zealand University. British Journal of Education, Society & Behavioural Science, 9(4), pp. 265-276.
This citation is automatically generated and may be unreliable. Use as a guide only.
Keywords
Sexuality; sexuality education; paradigm shift; health education; holistic education
ANZSRC Fields of Research
39 - Education::3904 - Specialist studies in education::390406 - Gender, sexuality and education
39 - Education::3901 - Curriculum and pedagogy::390111 - Physical education and development curriculum and pedagogy
Related items
Showing items related by title, author, creator and subject.
Light RL

;

Yasaki W

(

2016

)

This article draws on a study that inquires into what keeps girls aged 13-16 years in a high school basketball club in Japan with a focus on how the nature of their experience is shaped by socio-cultural and institutional ...

Blair M

;

Dixon, Rachael

;

CLELLAND, Tracy

(

2023

)

From Introduction: Learning about sex, relationships, and sexuality in education contexts is a perennially controversial issue, no matter where in the world. Is it the role of the parents? Is it the role of the school? ...

Light RL

;

Yasaki W

(

2017

)