How does dual-mycorrhizal association affect the ecological success of kanuka (Kunzea ericoides) across the South Island of New Zealand?
(2015)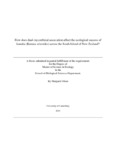 View/Open
Type of Content
Theses / Dissertations
Thesis Discipline
Biological Sciences
Degree Name
Master of Science
Publisher
University of Canterbury. School of Biological Sciences
Collections
Abstract
In this thesis I investigated the mutualism between Kunzea ericoides (kanuka) and two groups of soil fungi, ectomycorrhizae (ECM) and arbuscular mycorrhizae (AMF). Mycorrhizal mutualisms, which are considered globally ubiquitous, are poorly understood over changing abiotic gradients. A field survey of K. ericoides assessed how the relationship with the soil fungi varieties altered over a hydrologic gradient. Arbuscular mycorrhizal colonisation was significantly improved by increasing rainfall levels and amount of surrounding kanuka, and negatively affected by increasing altitude. Ectomycorrhizal colonisation was not significantly affected by any measured variables and remained relatively constant across all circumstances, suggesting that it is the preferred fungal mutualist for this tree species. A glasshouse experiment was done to measure the effect of ECM inoculation on the growth and water usage of K. ericoides over varying moisture availability. The seedlings were planted in soil inoculated with both ECM and AMF (experimental) or AMF only (control) and then grown under varying levels of water stress. The experiment was replicated with two soil types, with soil from beneath adult manuka (Leptospermum scoparium) and soil from beneath adult kanuka (K. ericoides). ECM colonisation significantly increased as soil moisture decreased for both soil types. ECM inoculation also increased the root:shoot ratio, and drastically decreased water usage under drought conditions. There were some soil effects as the seedlings grown in manuka-soil achieving greater biomass than seedlings grown in kanuka-soil. This is possibly due to presence of pathogens or some type of legacy competition which the seedlings would experience growing near conspecifics.
Overall, K. ericoides formed a dominant mutualism with ectomycorrhizae. These two both thrive in dry environmental conditions and have a suite of complementing abilities which possibly allow K. ericoides to expand it range into these dry habitat types. The increased benefit of these mutualisms at the hydrologic range limit of the species supports the importance of biotic interaction mediating environmental stress. Understanding the effects and response of mycorrhizal mutualisms are especially significant considering current climate change issues in New Zealand and worldwide.
Keywords
kanuka; kunzea ericoides; ectomycorrhizae; arbuscular mycorrhizae; root; colonisation; rainfall
Rights
Copyright Margaret Anne Olsen
Related items
Showing items related by title, author, creator and subject.
Bray, Jonathan Peter

(

University of Canterbury. Biological Sciences

,

2007

)

Physicochemical factors, algal diversity, taxonomic composition and standing crop were investigated across a broad gradient of AMD stress in streams and rivers. 52 sites were surveyed in the vicinity of Greymouth, Reefton, ...

Williams, Alwyn

(

University of Canterbury. Forestry

,

2010

)

Podocarpus cunninghamii is an endemic New Zealand conifer that, in pre-human times, formed extensive forest communities across the eastern South Island high country. Anthropogenic disturbances have reduced the distribution ...

Harbrow, Michael Andrew

(

University of Canterbury. School of Biological Sciences

,

2001

)

Macroinvertebrate assemblages, physico-chemical factors, epilithic algal biomass and leaf decomposition were examined in streams draining the Charming Creek and Stockton-Millerton coalfields north of Westport, South Island. ...