On the Invertibility of EGARCH
(2014)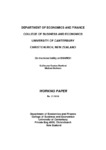 View/Open
Type of Content
Discussion / Working Papers
Publisher
University of Canterbury. Department of Economics and Finance
Authors
Martinet, G.G.
McAleer, M.
show all
Abstract
Of the two most widely estimated univariate asymmetric conditional volatility models, the exponential GARCH (or EGARCH) specification can capture asymmetry, which refers to the different effects on conditional volatility of positive and negative effects of equal magnitude, and leverage, which refers to the negative correlation between the returns shocks and subsequent shocks to volatility. However, the statistical properties of the (quasi-) maximum likelihood estimator (QMLE) of the EGARCH parameters are not available under general conditions, but only for special cases under highly restrictive and unverifiable conditions. A limitation in the development of asymptotic properties of the QMLE for EGARCH is the lack of an invertibility condition for the returns shocks underlying the model. It is shown in this paper that the EGARCH model can be derived from a stochastic process, for which the invertibility conditions can be stated simply and explicitly. This will be useful in re-interpreting the existing properties of the QMLE of the EGARCH parameters.
Citation
Martinet, G. G., McAleer, M., (2014) On the Invertibility of EGARCH. 12pp..
This citation is automatically generated and may be unreliable. Use as a guide only.
Keywords
Leverage; asymmetry; existence; stochastic process; asymptotic properties; invertibility
ANZSRC Fields of Research
38 - Economics::3802 - Econometrics::380202 - Econometric and statistical methods
Related items
Showing items related by title, author, creator and subject.
Asai, M.

;

Caporin, M.

;

McAleer, M.

(

College of Business and EconomicsUniversity of Canterbury. Department of Economics and Finance

,

2012

)

Most multivariate variance or volatility models suffer from a common problem, the "curse of dimensionality". For this reason, most are fitted under strong parametric restrictions that reduce the interpretation and flexibility ...

Chang, C-L.

;

Allen, D.E.

;

McAleer, M.

;

Amaral, T.P.

(

University of Canterbury. Department of Economics and Finance

,

2013

)

The papers in this special issue of Mathematics and Computers in Simulation are substantially revised versions of the papers that were presented at the 2011 Madrid International Conference on "Risk Modeling and Management" ...

Hafner, C.M.

;

McAleer, M.

(

University of Canterbury. Department of Economics and Finance

,

2014

)

One of the most widely-used multivariate conditional volatility models is the dynamic conditional correlation (or DCC) specification. However, the underlying stochastic process to derive DCC has not yet been established, ...