Some initial findings regarding language influence on playing brass instruments
(2014)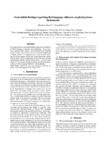 View/Open
Publisher
University of Canterbury. New Zealand Institute of Language, Brain & Behaviour
Collections
Abstract
This paper presents some initial findings regarding the influence of First Language on playing brass instruments. Using ultra- sound imaging of the tongue, vowel production and sustained trombone notes were compared for a New Zealand English and a Tongan speaker. It is suggested that, during trombone play- ing, the tongue shapes used by the Tongan participant pattern with the back vowel /o/ while those used by the New Zealand English player pattern with the centralized KIT vowel (/9/) and schwa (/@/). It is argued that these findings provide preliminary evidence of First Language influence on brass playing.
Citation
Heyne, M., Derrick, D. (2014) Some initial findings regarding language influence on playing brass instruments. Christchurch, New Zealand: 15th Australasian Speech Science and Technology Conference (SST 2014), 3-5 Dec 2014. 180-183.
This citation is automatically generated and may be unreliable. Use as a guide only.
Keywords
laboratory phonology; phonetics; phonetics of music; ultrasound imaging of the tongue (UTI)
ANZSRC Fields of Research
47 - Language, communication and culture::4704 - Linguistics::470410 - Phonetics and speech science
19 - Studies in the Creative Arts and Writing::1904 - Performing Arts and Creative Writing::190407 - Music Performance
Related items
Showing items related by title, author, creator and subject.
Derrick D

;

Heyne M

;

Al-Tamimi J

(

2019

)

This paper presents the findings of an ultrasound study of 10 New Zealand English and 10 Tongan-speaking trombone players, to determine whether there is an influence of native language speech production on trombone ...

Heyne, M.

;

Derrick, D.

(

University of Canterbury. New Zealand Institute of Language, Brain & Behaviour

,

2015

)

This paper builds on initial evidence of First Language influence on brass playing presented in Heyne and Derrick (2013) [13] by indicating how tongue positioning might affect trombone timbre. Ultrasound imaging ...

Strycharczuk P

;

Derrick D

;

Shaw J

(

Ubiquity Press, Ltd.

,

2020

)

'Vocalization' is a label commonly used to describe an ongoing change in progress affecting coda /l/ in multiple accents of English. The label is directly linked to the loss of consonantal constriction observed in this ...