Coordination of tongue tip and body in place differences among English coronal obstruents
(2014)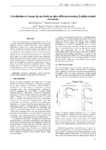 Publisher
University of Canterbury. New Zealand Institute of Language, Brain & Behaviour
Collections
Authors
Derrick, Donald
Fiasson, R.
Best, C.T.
show all
Abstract
Using electromagnetometry tracking of the tongue, Best et al. (2010, 2014) have demonstrated that Wubuy, an Australian language with four coronal stop places, shows significant differences in tongue tip vs. tongue body motion range and motion coordination contrasting apicals and laminals. Here we continue this line of inquiry with three coronal obstruents in English, the apical alveolar stop /d/ and alveo-palatal affricate /d? ?/ vs. the laminal dental fricative /ð/. The results show support for tongue tip/body motion range differences between /d/ and /ð/ across vowel contexts. They also showed a tongue tip/body motion coordination distinction between the apical /d/ and laminal /ð/, which was significant for /i/ and /u/ but not /a/ contexts. Results are consistent with the Wubuy findings (Best et al, 2010, 2014) despite the differences in the coronal obstruent contrasts of the two languages, suggesting an apical/laminal distinction in tongue tip/body coordination.
Citation
Derrick, D., Fiasson, R., Best, C.T. (2014) Coordination of tongue tip and body in place differences among English coronal obstruents. Cologne, Germany: 10th International Seminar on Speech Production (ISSP 2014), 5-8 May 2014. Proceedings..
This citation is automatically generated and may be unreliable. Use as a guide only.
Keywords
articulatory phonology; coronal obstruents; apical-laminal distinction; tongue tip/body coordination
ANZSRC Fields of Research
47 - Language, communication and culture::4704 - Linguistics::470410 - Phonetics and speech science
Related items
Showing items related by title, author, creator and subject.
Derrick, Donald

;

Stavness, I.

;

Gick, B.

(

University of Canterbury. New Zealand Institute of Language, Brain & Behaviour

,

2015

)

The assumption that units of speech production bear a one-to-one relationship to speech motor actions pervades otherwise widely varying theories of speech motor behavior. This speech produc- tion and simulation study ...

Derrick, Donald

;

Heyne M

;

Al-Tamimi J

(

2019

)

This paper presents the findings of an ultrasound study of 10 New Zealand English and 10 Tongan-speaking trombone players, to determine whether there is an influence of native language speech production on trombone ...

Derrick, Donald

;

De Rybel T

;

Fiasson R

(

2015

)

Researchers present a system that produces artificial airflow with a similar intensity envelope to that produced during speech, as measured 1 cm away from the lips. They have made an airflow estimator system that does not ...