A Hierarchy of Static Correlation Models
(2013)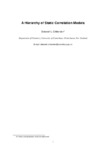 View/Open
Type of Content
Journal Article
Publisher
AMER CHEMICAL SOC
ISSN
1089-5639
1520-5215
Language
English
Abstract
It is commonly accepted in the scientific literature that the static correlation energy, Estat, of a system can be defined as the exact correlation energy of its valence electrons in a minimal basis. Unfortunately, the computational cost of calculating the exact correlation energy within a fully optimized minimal basis grows exponentially with system size, making such calculations intractable for all but the smallest systems. However, analogous to single-reference methods, it is possible to systematically approximate both the treatment of electron correlation and flexibility of the minimal basis to reduce computational cost. This yields a hierarchy of methods for calculating Estat, ranging from coupled cluster methods in a minimal atomic basis up to full valence complete active space methods with a minimal molecular orbital basis constructed from a near-complete atomic orbital basis. By examining a variety of dissociating diatomics, along with equilibrium and transition structures for polyatomic systems, we show that standard coupled cluster models with minimal atomic basis sets (e.g., STO-3G) offer a convenient and cost-effective hierarchy of black box estimates for Estat in small- to medium-sized systems near their equilibrium geometries. To properly describe homolytic bond dissociation, it is better to use a more flexible basis set expansion so that each atomic orbital can effectively adapt to its molecular environment. © 2013 American Chemical Society.
Citation
Crittenden DL (2013). A Hierarchy of Static Correlation Models. The Journal of Physical Chemistry Part A. 117(18). 3852-3860.
This citation is automatically generated and may be unreliable. Use as a guide only.
Keywords
Science & Technology; Physical Sciences; Chemistry, Physical; Physics, Atomic, Molecular & Chemical; Chemistry; Physics; CHEMISTRY, PHYSICAL; PHYSICS, ATOMIC, MOLECULAR & CHEMICAL; MOLECULAR ELECTRONIC WAVEFUNCTIONS; POLARIZED ATOMIC ORBITALS; DENSITY-FUNCTIONAL THEORY; CLUSTER WAVE-FUNCTIONS; HARTREE-FOCK THEORY; NONDYNAMIC CORRELATION; CORRELATION-ENERGY; THERMOCHEMICAL KINETICS; GAUSSIAN EXPANSIONS; BRUECKNER ORBITALS; electron correlation; static; dynamic; hierarchy; approximations; valence orbital optimized coupled cluster doubles; complete active space self-consistent field theory; full configuration interaction; atomic minimal basis; molecular minimal basis
ANZSRC Fields of Research
34 - Chemical sciences::3407 - Theoretical and computational chemistry::340701 - Computational chemistry
34 - Chemical sciences::3407 - Theoretical and computational chemistry::340704 - Theoretical quantum chemistry
Rights
All rights reserved unless otherwise stated
Related items
Showing items related by title, author, creator and subject.
Wallace, Andrew James

;

Crittenden, Deborah

(

AMER CHEMICAL SOC

,

2014

)

Static correlation energies (Estat) are calculated in a range of basis sets for a chemically diverse collection of atoms and molecules. The reliability of a basis set in capturing Estat is assessed according to the following: ...

Crittenden, Deborah

(

American Chemical Society (ACS)

,

2009

)

Binding energies, potential energy curves, and equilibrium intermonomer distances describing the interaction between benzene and a series of first - and second-row hydrides and rare gas atoms are calculated using coupled-cluster ...

Sibaev, Marat

;

Crittenden, Deborah

(

AMER CHEMICAL SOC

,

2015

)

Simulating accurate infrared spectra is a longstanding problem in computational quantum chemistry. Linearly scaling harmonic frequencies to better match experimental data is a popular way of approximating anharmonic effects ...