An efficient and numerically stable procedure for generating sextic force fields in normal mode coordinates
(2019)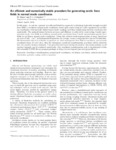 View/Open
Type of Content
Journal Article
Publisher
AMER INST PHYSICS
ISSN
0021-9606
1089-7690
Language
English
Abstract
In this paper, we outline a general, scalable, and black-box approach for calculating high-order strongly coupled force fields in rectilinear normal mode coordinates, based upon constructing low order expansions in curvilinear coordinates with naturally limited mode-mode coupling, and then transforming between coordinate sets analytically. The optimal balance between accuracy and efficiency is achieved by transforming from 3 mode representation quartic force fields in curvilinear normal mode coordinates to 4 mode representation sextic force fields in rectilinear normal modes. Using this reduced mode-representation strategy introduces an error of only 1 cm -1 in fundamental frequencies, on average, across a sizable test set of molecules. We demonstrate that if it is feasible to generate an initial semi-quartic force field in curvilinear normal mode coordinates from ab initio data, then the subsequent coordinate transformation procedure will be relatively fast with modest memory demands. This procedure facilitates solving the nuclear vibrational problem, as all required integrals can be evaluated analytically. Our coordinate transformation code is implemented within the ex tensible PyPES library program package, at http://sourceforge.net/projects/pypes-lib-ext/.
Citation
Sibaev M, Crittenden DL (2019). An efficient and numerically stable procedure for generating sextic force fields in normal mode coordinates. Journal of Chemical Physics. 144(21).
This citation is automatically generated and may be unreliable. Use as a guide only.
Keywords
Science & Technology; Physical Sciences; Chemistry, Physical; Physics, Atomic, Molecular & Chemical; Chemistry; Physics; POTENTIAL-ENERGY SURFACES; VIBRATIONAL-STATE CALCULATIONS; DEGENERATE PERTURBATION-THEORY; AB-INITIO DETERMINATION; POLYATOMIC-MOLECULES; SPECTROSCOPIC CONSTANTS; HARMONIC APPROXIMATION; ROVIBRATIONAL ENERGIES; QUANTUM-CHEMISTRY; WAVE-FUNCTIONS; coordinate transformation; normal mode coordinates; rectilinear; curvilinear; reduced mode representation; potential energy surface expansion
ANZSRC Fields of Research
34 - Chemical sciences::3407 - Theoretical and computational chemistry::340701 - Computational chemistry
34 - Chemical sciences::3401 - Analytical chemistry::340101 - Analytical spectrometry
46 - Information and computing sciences::4601 - Applied computing::460104 - Applications in physical sciences
51 - Physical sciences::5102 - Atomic, molecular and optical physics::510201 - Atomic and molecular physics
34 - Chemical sciences::3407 - Theoretical and computational chemistry::340704 - Theoretical quantum chemistry
Rights
All rights reserved unless otherwise stated
Related items
Showing items related by title, author, creator and subject.
Sibaev, Marat

;

Crittenden, Deborah

(

WILEY-BLACKWELL

,

2015

)

In this article, we present a Python‐based library of high quality semi‐global potential energy surfaces for 50 polyatomic molecules with up to six atoms. We anticipate that these surfaces will find widespread application ...

Sibaev, Marat

;

Crittenden, Deborah

(

ELSEVIER SCIENCE BV

,

2016

)

The PyVCI program package is a general purpose open-source code for simulating accurate molecular spectra, based upon force field expansions of the potential energy surface in normal mode coordinates. It includes harmonic ...

Krasnoshchekov SV

;

Schutski RS

;

Craig NC

;

Sibaev, Marat

;

Crittenden, Deborah

(

AIP Publishing

,

2018

)

Three dihalogenated methane derivatives (CH2F2, CH2FCl, and CH2Cl2) were used as model systems to compare and assess the accuracy of two different approaches for predicting observed fundamental frequencies: canonical ...