Noise Considerations for Tomographic Reconstruction of Single-Projection Digital Holographic Interferometry-Based Radiation Dosimetry
(2023)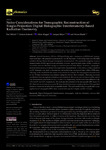 View/Open
Type of Content
Journal Article
Publisher
MDPI AG
ISSN
2304-6732
Language
en
Authors
Moggré A
Telford, Thomas
Roberts, Jackson
Meyer, Juergen
Marsh, Steven
show all
Abstract
Optical Calorimetry (OC) is a 2D Digital Holographic Interferometry (DHI)-based measurement technique with potential applications for the 3D dosimetry of ultra-high dose rate (FLASH) radiation therapy beams through tomographic reconstruction. This application requires accurate measurements of DHI signals in environments with low signal-to-noise ratios (SNRs) in order to accurately measure absorbed energy to a medium per unit mass (Dose). However, tomographic reconstruction accuracy is sensitive to noise in the measurements. In this study, a virtual model of an OC dosimeter was used to characterize and model major sources of noise within a DHI setup, allowing for the modelled noise sources to be selectively reduced. The tomographic reconstruction of the 3D dose distribution was achieved using the inverse Abel transform. Reducing the noise contribution from atmospheric turbulence and mechanical vibration by one half improved the central axis reconstruction error from 6.5% to 1.3% and 1.1%, respectively, and the mean dose difference from 2.9% to 0.4% and 0.3%, respectively. This indicates the potential of the tomographic DHI-based 3D OC dosimeter to reconstruct accurate 3D dose distributions from a single projection if the specified sources of noise can be reduced to acceptable levels. The used methodology is applicable to any application of tomographic DHI where reconstruction quality is highly sensitive to noise.
Citation
Telford T, Roberts J, Moggré A, Meyer J, Marsh S (2023). Noise Considerations for Tomographic Reconstruction of Single-Projection Digital Holographic Interferometry-Based Radiation Dosimetry. Photonics. 10(2). 188-188.
This citation is automatically generated and may be unreliable. Use as a guide only.
Keywords
Digital Holographic Interferometry; tomography; radiation dosimetry; inverse Abel transform; FRED; Optical Calorimetry
ANZSRC Fields of Research
32 - Biomedical and clinical sciences::3202 - Clinical sciences::320222 - Radiology and organ imaging
32 - Biomedical and clinical sciences::3211 - Oncology and carcinogenesis::321110 - Radiation therapy
51 - Physical sciences::5105 - Medical and biological physics::510502 - Medical physics
Rights
All rights reserved unless otherwise stated
Related items
Showing items related by title, author, creator and subject.
Hubley L

;

Roberts J

;

Meyer J

;

Moggré A

;

Marsh S

(

MDPI AG

,

2019

)

Digital holographic interferometry (DHI) radiation dosimetry has been proposed as an experimental metrology technique for measuring absorbed radiation doses to water with high spatial resolution via noninvasive optical ...

Meyer J

;

Stewart R

;

Smith D

;

Eagle J

;

Lee E

;

Marsh SH

(

2017

)

The biological effectiveness of proton beams varies with depth, spot size and lateral distance from the beam central axis. The aim of this work is to incorporate proton relative biological effectiveness (RBE) and ...

Rajasekar A

;

Moggre A

;

Cousins A

;

Marsh SH

(

2017

)