Femininity, faculty and feelings: An investigation of the emotional wellbeing of year 13 women, in the context of school-constructed femininity.
(2015)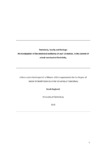 Type of Content
Theses / Dissertations
Thesis Discipline
Health Sciences
Degree Name
Master of Health Sciences
Publisher
University of Canterbury. School of Health Sciences
Collections
Abstract
The purpose of this qualitative study was to investigate how the emotional wellbeing of female adolescents is influenced by constructions of femininity in a single-sex high school environment. From one single-sex high school, four young women aged 17 and 18 years of age and two teachers were asked to be a part of this study.
A qualitative approach was used in this study to elicit thick description of participants' constructions of femininity and emotional wellbeing. Underpinning this research is an interpretivist and social-constructivist methodology, whereby social-constructivist researchers attempt to build understanding of phenomena by accessing the meaning that participants assign to themselves through the experiences they have with the world around them. Qualitative data tools were therefore used, including semi-structured individual interviews and focus groups.
Analysis of the data involved a qualitative strategy called thematic analysis. This enabled categories and themes to be taken from the data as they emerged. Key themes from this study demonstrated that the school curriculum, teachers, religious expectations, family experiences and peer group pressures directly influenced student feminine gender constructions. Alongside this, peer pressures to be feminine, negative perceptions of self body image, confusion of self and gender-identity, inadequate school health education and negative stigma surrounding mental and emotional health negatively affected student emotional wellbeing.
From these results, various implications have emerged. First, single-sex schools and its teachers should work to eliminate gendered stereotypes that restrict young women's interests and opportunities. Second, teachers and schools need to be aware of female peer dynamics and seek ways to facilitate healthy relationships and identity development of its students. Further, health education personnel should factor in female peer group dynamics when implementing emotional wellbeing programmes, curriculum and policy initiatives aimed at female adolescents. Finally, students need realistic and relevant health education that supports understandings and coping strategies for self-esteem, identity confusion and perceptions of body image. Health education also needs to promote a positive view of mental and emotional health and encourage the use of the school's mental health service.
Keywords
Femininity; gender; school; health; education; qualitative; self-esteem; identity; body image; emotion
Rights
Copyright Sarah Gagliardi
Related items
Showing items related by title, author, creator and subject.
Hart, M J Alexandra

(

University of Canterbury. Social and Political Sciences

,

2010

)

This research into Chronic Fatigue Syndrome (CFS) presents the results of 60 first-person psycho-phenomenological interviews with 30 New Zealand women. The participants were recruited from the Canterbury and Wellington ...

Guerin, Annette Patricia

(

University of Canterbury. School of Educational Studies and Leadership

,

2015

)

New Zealand education policies and documents (Ministry of Education, 2007, 2009, 2010, 2011a, 2014a) situate students at the centre of assessment processes that are underpinned by the New Zealand Curriculum. They identify ...

Ahuriri-Driscoll, Annabel

(

University of Canterbury

,

2020

)

The question "who am I?" is an enduring one which invokes a variety of responses depending on a person's social and cultural context. Such a question suggests that there might be a singular, plausible 'answer'. It also ...