The geology of the Governors Bay Road - Dyers Pass Road area, Lyttelton volcano, Banks Peninsula
(1986)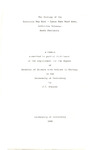 Type of Content
Theses / Dissertations
Thesis Discipline
Geology
Language
English
Collections
Abstract
In this thesis, the geology, petrography and geochemistry of the Governors Bay Road - Dyers Pass Road area are described. No formal stratigraphy can be set up for the succession because there is a lack of systematic variation in the lava flows. The activity of the Lyttelton Volcano included aa flows from the main crater and fissures on the flanks of the volcano, occasional pyroclastic activity including the production of cinder cones, and intrusion of a radial dyke swarm and sills. The lavas and dykes of the Lyttelton Volcano in the field area are of two geochemical types, alkaline and subalkaline. Alkaline lavas are dominantly aphyric or plagioclase± clinopyroxene± olivine phyric hawaiites with minor basalts and mugearites; the subalkaline lavas are basaltic andesites and dacites, one of which is orthopyroxene phyric. The alkaline dykes are dominantly aphyric or plagioclase±clinopyroxene±olivine - phyric hawaiites or trachytes with minor basalts and mugearites; there is a single dacite dyke. Of the two sills in the study area one is a trachyte, the other a dacite. The two geochemical types often plot with separate trends on variation diagrams. The present geochemical evidence suggest that these two trends are due to contamination of alkaline magma moving up through the crust, creating a subalkaline melt. The subalkaline volcanics occur only in a stratigraphically restricted part of the succession, suggesting a limited amount of contamination. Major oxide and trace element diagrams for all volcanics are consistent with a hypothesis of polybaric fractionation. This also explains the relatively evolved nature of the most primitive magma and the presence of corroded olivine and clinopyroxene phenocrysts. As well as high level crystal fractionation, introduction of more primitive magma into a high level reservoir and mixing within the reservoir are indicated by textural evidence.
Rights
All Rights Reserved
Related items
Showing items related by title, author, creator and subject.
In this report the physical volcanology, petrology, and geochemistry of the Coopers Knob area of Lyttelton Volcano are described. Activity of the Lyttelton volcano is represented by basaltic lava flows, basaltic to trachytic ...

Shearer, Jane Christine

(

University of Canterbury

,

1992

)

Several kinds of data from the Cretaceous Morley and Eocene Beaumont Coal Measures at Ohai Coalfield were integrated in order to develop models for sedimentary elastic deposition and mire formation. These data comprise ...

Sewell, R. J.

(

University of Canterbury. Geology

,

1985

)

Based on field-mapping and geochemistry of lavas outcropping between the two stratovolcanic centres of Lyttelton and Akaroa, a new Miocene volcanic stratigraphy for central Banks Peninsula has been established. Five ...