Business case for Holmes Solutions' diversification into the aerospace industry
(2017)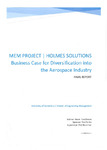 View/Open
Type of Content
Theses / Dissertations
Thesis Discipline
Engineering management
Degree Name
Master of Engineering in Management
Language
English
Collections
Abstract
This report was completed as partial fulfilment of the MEM programme, and was done for the sponsor company, Holmes Solutions LP (HSL). The report is the result of research to evaluate the aero space market for potential opportunity to justify investment and diversification of HSL's capabilities. The project includes market assessment through secondary sources and wide practitioner engagement for insights. Following analysis and stakeholder engagement, the scope was refined to three tangible testing opportunities (static, flammability and dynamic), as well as engineering design, thus allowing adequate focus and completeness in the business case. The business case content also involved the development of a financial model for projecting returns on investment. This tool allows inputs to be adjusted for any changes following further data validation. Key recommendations from this business case are that engineering design and static testing appear viable, whereas flammability and dynamic testing appeared to be unprofitable and will require further validation. Following these recommendations, a high level implementation plan provides tangible actions and steps toward market entrance.
Related items
Showing items related by title, author, creator and subject.
Ainul Azyan ZH

;

Pulakanam V

;

Pons D

(

Emerald

,

2017

)

© Emerald Publishing Limited. Purpose: Lean principles are applied in manufacturing and service industries extensively, but its successful application in the printing industry has been poor. The purpose of this paper is ...

Sun D

;

Li J

;

Xu R

;

Dong X

;

Zhao D

;

Sun X

;

ZHAO, DAN

(

Elsevier BV

,

2021

)

A kind of foam metal casing treatment (FMCT) is proposed and experimentally tested on a low-speed axial flow compressor in this work. Foam metal is a foam-like substance with a lightweight structure but a certain strength. ...

Holmes, Alexander Peter

(

University of Canterbury

,

2019

)

The concepts of sustainability and environmental practices are investigated in the context of agriculture, in order to understand the impact of sustainability and the environmental challenges that farmers encounter in their ...