Market adoption of emerging disruptive technologies
(2017)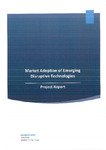 View/Open
Type of Content
Theses / Dissertations
Thesis Discipline
Engineering management
Degree Name
Master of Engineering in Management
Language
English
Collections
Abstract
This report outlines a commercialization plan for Engin, an information management and marketplace system created by Engin.Systems Ltd. The aim of this plan is to create a commercially viable company and achieve significant market share for this system in the next five years in both the New Zealand and Australian markets . Market research was performed to understand the commercial and competitive landscape in which Engin will be operating and to identify potential markets for validation. The New Zealand construction industry was identified as a prime candidate for an early adopter market. In addition, several industries were investigated to determine their needs and if Engin is suitable to meet them. Distribution and pricing strategies are determined along with a five year revenue forecast based on several assumptions. These assumptions are stated within this report: This report also outlines a specific five-year commercialization roadmap along with potential risks that may arise and strategies to mitigate them when possible.
Related items
Showing items related by title, author, creator and subject.
Sok, P.

;

O'Cass, A.

;

Miles, M.P.

(

University of Canterbury. Management, Marketing, and Entrepreneurship

,

2016

)

Research focusing on SMEs has in many respects been dominated by a developed-economy perspective (Bruton, Ahlstrom, and Obloj 2008). As such, theory and research on SMEs underpinned by a developed economy perspective may ...

Ellery, Miles Denis

(

1974

)

Some token reinforcement programmes in schools have made tokens contingent upon the behaviour of the individual; others have made tokens contingent upon the behaviour of a group or groups. While both have been shown to be ...

Cooper, Kristen Jane

(

University of Canterbury. Management

,

2007

)

An exploratory investigation using a case study approach was undertaken in five organisations in different sectors, to explore whether there is any connection between CEO leadership style and adoption of the marketing ...