Higgins quality process improvement
(2017)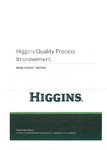 View/Open
Type of Content
Theses / Dissertations
Thesis Discipline
Engineering management
Degree Name
Master of Engineering in Management
Language
English
Collections
Abstract
This report details a quality process improvement project undertaken for Higgins Group Holdings Limited (Higgins). Quality management at Higgins is a compliance-based activity at best, with variations between branch practices throughout the country. Interviews with current Higgins employees, clients and consulting engineers identified issues with current quality processes. Further consultation with other civil and construction companies in New Zea land , Australia and the United Kingdom combined with a review of academic literature, identified a best practice for construction quality management. Research was conducted into emerging software solutions in order to identify current and future technology enablers for quality process improvement within the construction sector. The recommendations made should result in a decrease in the amount of rework required, adding further improvements to the organisation's bottom-line. This leads to increased competitiveness through the ability to bid lower due to reduced risk, and increased repeat business due to improved client satisfaction .
Related items
Showing items related by title, author, creator and subject.
Wigley, T.

;

Yip, Alex

;

Pang, S.

(

University of Canterbury. Chemical and Process Engineering

,

2016

)

Pretreating biomass prior to pyrolysis was investigated. Three undesirable catalysts naturally present in biomass were identified: inorganics, acids, and water. A pretreatment sequence incorporating acid leaching and ...

Chase, Geoff

;

Shaw, Geoff

(

University of Canterbury. Mechanical Engineering

,

2011

)

Mubin, O.

;

Bartneck, Christoph

;

Feijs, L.

;

Hooft van Huysduynen, H.

;

Hu, J.

;

Muelver, J.

(

University of Canterbury. Human Interface Technology Laboratory

,

2012

)

This article presents the design and evaluation of a Robot Interaction Language (ROILA). This speech recognition friendly spoken artificial language is designed to be used by humans for interacting with robots. We evaluated ...