Cost effective vegetation management using aerial survey
(2016)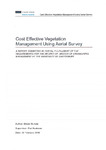 View/Open
Type of Content
Theses / Dissertations
Thesis Discipline
Engineering management
Degree Name
Master of Engineering in Management
Language
English
Collections
Abstract
A low cost aerial survey system has been proposed to reduce Transpower's exposure to vegetation risk and to make cost savings of up to $500k p.a. to the $1OM per annum vegetation management budget. The system would predict the growth of individual trees and would guide work schedulers to plan work more efficiently. Transfield Services (now Broadspectrum) and Fraser Rhind (independent consultants) have both raised concerns with current vegetation inspection practices and have stated that Transpower has poor visibility of their vegetation risk. They also noted that human inspectors are prone to missing problem trees, and that ground access issues impede an inspector's ability to assess vegetation clearance in some areas. These flaws leave Transpower wearing the risk of unidentified or mis-measured vegetation. The proposed system would address these concerns, reducing the risk of vegetation related incidents and thereby improving Grid reliability. Project Purpose: The purpose of this project was: To determine the feasibility and appropriateness of an aerial survey system; To establish the most cost effective method for gathering improved vegetation data; To establish the potential benefit to be derived from such a system and to make a costed go-no go recommendation.
Related items
Showing items related by title, author, creator and subject.
Curran M

;

Hodza P

;

Cox S

;

Lanning S

;

Robertson B

;

Robinson T

;

Stahl P

(

2020

)

Rangeland ecosystems cover 3.6 billion hectares globally with 239 million hectares located in the United States. These ecosystems are critical for maintaining global ecosystem services. Monitoring vegetation in these ...

Septianto F

;

Tjiptono F

;

Paramita W

;

Kemper, Joya A.

(

Springer Science and Business Media LLC

,

2020

)

In the era of consumer distrust of corporations, transparency is becoming a must rather than an option. While prior research has explored why businesses should disclose their costs and how consumers may react to such cost ...

Fitt H

;

Curl A

;

el Orfi Y

;

Dares C

;

Russel E

;

Kingham, Simon

(

2022

)

Transport and housing are very closely linked. Where you live influences the things you can do and where you can go. This can affect your health and wellbeing. Ōtautahi Community Housing Trust has put shared cars and ...