Review of service delivery resource and project planning processes at Connetics
(2016)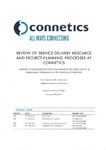 View/Open
Type of Content
Theses / Dissertations
Thesis Discipline
Engineering management
Degree Name
Master of Engineering in Management
Language
English
Collections
Abstract
The intent of this project was to recommend a new resource and project planning system for Connetics Ltd. This project has to integrate with the newly implemented 2020 Strategy, which aims to improve efficiencies within Connetics. The project involved justifying the requirement for change in the planning process, development of an improved planning process, and recommending supporting scheduling software. A literature review and multiple interviews were used to gain justification for the change in process. Desktop research, communication with software vendors and interviews with other companies operating in the electrical contracting industry in New Zealand were used to develop the replacement planning system and the chosen software. The scheduling software, recommended for implementation within the planning system, is Click Software. This software offers large gains in efficiency through optimised scheduling, centralisation of processes, transparency and low associated risk.
Related items
Showing items related by title, author, creator and subject.
Pouwels D

;

Aquino, Richard S.

(

Southland District Council

,

2021

)

Van Gestel, P.

;

Pons, D.

;

Pulakanam, V.

(

University of Canterbury. Management, Marketing, and EntrepreneurshipUniversity of Canterbury. Mechanical Engineering

,

2014

)

This presentation describes a project for the implementation of Lean manufacturing. The specific case under examination was a meat processing plant. The need was to increase plant utilisation and reduce work-in-process ...

White I

;

Storey B

;

Owen S

;

Bell R

;

Charters F

;

Dickie B

;

Foster L

;

Harvey E

;

Hughes J

;

Kerr S

;

Lawrence J

;

Morgan K

;

Palmer G

;

Roberts N

;

Stroombergen A

;

Zammit C

(

Motu Economic and Public Policy Research

,

2017

)

We know climate change is happening and we know stormwater and wastewater systems are vulnerable. What we don't know is how these impacts will unfold over varying places and times. This discussion paper provides an overview ...