Development of asset management performance measures
(2015)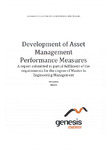 View/Open
Type of Content
Theses / Dissertations
Thesis Discipline
Engineering management
Degree Name
Master of Engineering in Management
Language
English
Collections
Abstract
This report describes an investigation into asset management practices at Genesis Energy, a major electricity generator and energy provider operating across New Zealand . At the time of publishing, Genesis was taking action to improve asset management practices within the company's generation department through development of an ISOSS000 (international standard for asset management) aligned asset management system (AMS) . The aim of this investigation was to provide recommendations for the establishment of performance measures for the AMS. In working toward this, opportunities for the improvement of the system in general were also noted and related recommendations put forward. Central to the investigation was the creation of a system process map which was used as a tool in analysing the AMS. The development of the AMS at Genesis Energy is driven by a need to manage electrical generation plant with increased efficiency and reduced risk in a commercially astute and socially responsible manner. Development of AMS performance measures through system mapping aims to support the system's on-going enhancement through increasing internal understanding and providing direction for continuous improvement. In order to map the system, the structure of Genesis' existing asset management processes were investigated and the information and activity flows involved were laid out using a basic flow chart syntax. Employing the IDEF0 graphical modelling language and the AMS diagram given in ISOSS000, a hierarchical series of detailed diagrams was then developed from the basic charts to reflect the desired end-state of the Genesis AM S. The IDEF0 approach provided a structured and logical methodology for visualisation of complex activities and information flows between interconnected activities .
Related items
Showing items related by title, author, creator and subject.
Giovinazzi, S.

;

Wilson, T.M.

;

Davis, C.

;

Bristow, D.

;

Gallagher, M.

;

Schofield, A.

;

Villemure, M.

;

Eidinger, J.

;

Tang, A.

(

University of Canterbury. Civil and Natural Resources EngineeringUniversity of Canterbury. Geological Sciences

,

2011

)

A magnitude 6.3 earthquake struck the city of Christchurch at 12:51pm on Tuesday 22 February 2011. The earthquake caused 182 fatalities, a large number of injuries, and resulted in widespread damage to the built environment, ...

Cubrinovski, M.

;

Hughes, M.

;

Bradley, Brendon

;

Noonan, J.

;

Hopkins, R.

;

McNeill, S.

;

English, G.

(

University of Canterbury. Civil and Natural Resources Engineering

,

2014

)

This is an interim report from the research study performed within the NHRP Research Project "Impacts of soil liquefaction on land, buildings and buried pipe networks: geotechnical evaluation and design, Project 3: Seismic ...

Palermo A

;

Liu R

;

Rais A

;

McHaffie B

;

Pampanin, Stefano

;

Gentile R

;

Nuzzo I

;

Granerio M

;

Loporcaro G

;

McGann CR

;

Wotherspoon LM

;

Andisheh, K

(

2017

)

The transport infrastructure was majorly affected by the 14th November 2016 Kaikōura Earthquake. Severe vertical and horizontal peak ground accelerations generated high inertial forces, land-slides, and liquefaction. Most ...