Changes to population-based emergence of climate change from CMIP5 to CMIP6
(2023)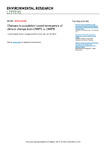 View/Open
Type of Content
Journal Article
Publisher
IOP Publishing
ISSN
1748-9326
Authors
Douglas HC
Harrington LJ
Joshi M
Hawkins E
Frame DJ
Revell, Laura
show all
Abstract
<jats:title>Abstract</jats:title> <jats:p>The Coupled Model Intercomparison Project Phase 6 (CMIP6) model ensemble projects climate change emerging soonest and most strongly at low latitudes, regardless of the emissions pathway taken. In terms of signal-to-noise (S/N) ratios of average annual temperatures, these models project earlier and stronger emergence under the Shared Socio-economic Pathways than the previous generation did under corresponding Representative Concentration Pathways. Spatial patterns of emergence also change between generations of models; under a high emissions scenario, mid-century S/N is lower than previous studies indicated in Central Africa, South Asia, and parts of South America, West Africa, East Asia, and Western Europe, but higher in most other populated areas. We show that these global and regional changes are caused by a combination of higher effective climate sensitivity in the CMIP6 ensemble, as well as changes to emissions pathways, component-wise effective radiative forcing, and region-scale climate responses between model generations. We also present the first population-weighted calculation of climate change emergence for the CMIP6 ensemble, quantifying the number of people exposed to increasing degrees of abnormal temperatures now and into the future. Our results confirm the expected inequity of climate change-related impacts in the decades between now and the 2050 target for net-zero emissions held by many countries. These findings underscore the importance of concurrent investments in both mitigation and adaptation.</jats:p>
Citation
Douglas HC, Harrington LJ, Joshi M, Hawkins E, Revell LE, Frame DJ (2023). Changes to population-based emergence of climate change from CMIP5 to CMIP6. Environmental Research Letters. 18(1). 014013-014013.
This citation is automatically generated and may be unreliable. Use as a guide only.
Keywords
climate change emergence; CMIP6; SSPs; RCPs; inequality; CMIP5; emissions
ANZSRC Fields of Research
41 - Environmental sciences::4101 - Climate change impacts and adaptation::410103 - Human impacts of climate change and human adaptation
37 - Earth sciences::3702 - Climate change science::370201 - Climate change processes
Rights
All rights reserved unless otherwise stated
Related items
Showing items related by title, author, creator and subject.
Robertson F

;

Douglas H

;

Morgenstern O

;

Frame D

;

Revell, Laura

(

American Geophysical Union (AGU)

,

2022

)

The tropospheric westerly jet is a key feature of Southern Hemisphere climate. In recent decades the jet strengthened in austral summer (December–February [DJF]) and moved poleward owing to the Antarctic ozone hole. ...

Bodeker G

;

Tait A

;

Morgenstern O

;

Noone D

;

Revell L

;

McDonald A

;

Cullen N

;

Renwick J

;

Katurji, Marwan

(

2022

)

Silva Thotabaddadurage, Dr. Sadeeshvara

(

2015

)

Tourism is the act and process of spending time away from home in pursuit of recreation, relaxation, and pleasure, while making use of the commercial provision of services. It is further identified as a product of modern ...