High PSV Aggregate Exploration
(2015)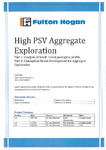 View/Open
Type of Content
Theses / Dissertations
Thesis Discipline
Engineering management
Degree Name
Master of Engineering in Management
Language
English
Collections
Abstract
This project investigates the possibility of fin ding high PSV aggregate within the South Island of New Zealand. The study is completed for Fulton Hogan as they look to acquire a more accessible source for use within the South Island. High PSV aggregate reduces the rate of deterioration of skid resistance on high risk curves therefore making them safer. In a country with many winding roads, much focus is put on the performance of New Zealand's roads. Fulton Hogan currently sources its aggregate from local quarries, but when higher polishing resistance is required, aggregate is transported from Steelserve in Auckland. As a result of the limited resource of slag from Steelserve and transportation costs, there is a desire to find an aggregate in the South Island that performs well on high risk curves and is both affordable and accessible. The Wairoa quarry in Nelson is currently being assessed as to the performance of the aggregates on the surfaces of high risk curves. The PSV of the Wairoa aggregate is considered high enough to be of interest, but in-field performance testing is still underway.
Related items
Showing items related by title, author, creator and subject.
Deane KL

;

Bullen P

;

Dutton, Hilary

(

Informa UK Limited

,

2021

)

Evidence shows that self-disclosure plays an important role in developing and maintaining close interpersonal relationships. As self-disclosure remains largely unexamined in the context of interventions based on youth-adult ...

A recent emerging class of sustainable materials are fungal biomaterials, which can offer an alternative to petroleum-based products. A major component of fungal biomaterials is mycelium, the vegetative part of a fungus. ...

Lund Dean K

;

Wright S

(

Springer Science and Business Media LLC

,

2017

)

© 2016, Springer Science+Business Media Dordrecht. Engaged learning opportunities have become powerful foundations upon which students build lifelong skills and organizational capacities. Research has empirically validated ...