Redeveloping Cathedral Square, Christchurch : the English landscape and the maintenance of social control
(1998)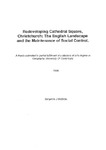 View/Open
Type of Content
Theses / Dissertations
Thesis Discipline
Geography
Degree Name
Master of Arts
Language
English
Collections
Abstract
Changes in the central city of Christchurch over the last decade have followed a similar form to urban trends throughout the capitalist world. These changes include: inner city enhancement, investment into tourism and hotels, the increasing involvement of foreign firms, and the development of consumption attractions and entertainments. But the way that these changes are used, and their effects, are not felt the same.
Recent urban theory has sought to challenge universal explanations; explanations that take little account of the difference in lived experience. Yet they have also sought to unmask the subtle, and more obvious, structures in society that operate to the benefit of a part. Moreover, they have shown how inhabitants of those societies actively reinscribe these structures in the everyday environments in which they live.
This thesis uses the concept of landscape and postcolonial theory to unmask the beneficiaries of the changes in central Christchurch. It reads the "English City" representation, as a colonial construction; a reflection of an order of society that privileges only a small sector of the community. Until recently geographic approaches have focused on finding the spatial dimensions to urban developments; the landscape concept offers to reveal not only what lies behind such changes, but how they are read by those they effect.
Rights
All Rights Reserved
Related items
Showing items related by title, author, creator and subject.
Strongman Thelma, Thelma

(

1994

)

Cathedral Square has been an important focus for the people of Christchurch and Canterbury since the beginning of the Province in 1850. The aim of this thesis is to trace its architectural development as an urban space ...

McBride, James Alexander

(

University of Canterbury. Biological Sciences

,

2013

)

In New Zealand Nothofagus forests Ultracoelostoma spp. scale insects produce abundant honeydew which is an important food for native birds, invertebrates, sooty mould, and invasive wasps. Previous models have underestimated ...

Woods RJ

;

McBride SK

;

Wotherspoon L

;

Beaven SJ

;

Potter SH

;

Johnston DM

;

Wilson T

;

Brunsdon D

;

Grace ES

;

Brackley H

;

Becker JS

(

2017

)

The M7.8 Kaikoura Earthquake in 2016 presented a number of challenges to science agencies and institutions throughout New Zealand. The earthquake was complex, with 21 faults rupturing throughout the North Canterbury and ...