Clinical Supervision in Singapore: Allied Health Professional Perspectives from a two-round Delphi Study
(2022)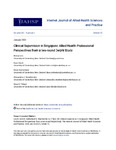 View/Open
Type of Content
Journal Article
Publisher
Nova Southeastern University
ISSN
1540-580X
Authors
Lim B
Sutherland D
Weathersby A
Tillard G
Cook, Kate. J.
show all
Abstract
Purpose: This study investigated Allied Health Practitioners' (AHPs) perspectives on and consensus of clinical supervision in an acute tertiary hospital in Singapore. Specifically, AHPs' views on the benefits of and barriers surrounding engaging in clinical supervision, as well as strategies for enhancing clinical supervision experience. Method: A Delphi approach utilizing a two-round process via online questionnaires was employed. A total of 77 AHPs responded to the first round of the Delphi questionnaire and 55 AHPs completed the second round (71% retention rate). Open-ended responses from the first round underwent thematic analysis and resulted in sixty statements (five themes) describing engagement in clinical supervision. In the second round, AHPs were asked to rate each characteristic of clinical supervision on a 5 point Likert Scale. Results: Consensus was reached on 52 statements using a cut off of greater than 68% positive respondents and an interquartile deviation (IQD) ≤1. The study identified 52 statements considered important for successful clinical supervision for AHP in an acute tertiary hospital in Singapore. Conclusions: The themes and underpinning statements provide insights about clinical supervision in the Singapore hospital setting.
Citation
Lim B, Cook K, Sutherland D, Weathersby A, Tillard G (2022). Clinical Supervision in Singapore: Allied Health Professional Perspectives from a two-round Delphi Study. Internet Journal of Allied Health Sciences and Practice.
This citation is automatically generated and may be unreliable. Use as a guide only.
Keywords
clinical supervision; Singapore; allied health; perspectives
ANZSRC Fields of Research
42 - Health sciences::4201 - Allied health and rehabilitation science::420199 - Allied health and rehabilitation science not elsewhere classified
Rights
All rights reserved unless otherwise stated
Related items
Showing items related by title, author, creator and subject.
Rackerby R

;

Lukosch, Stephan

;

Munro, Deborah

(

Elsevier BV

,

2022

)

Objective: To derive a definition of cognitive load that is applicable for amputation as well as analyze suitable research models for measuring cognitive load during prosthetic use. Defining cognitive load for amputation ...

Messick C

;

McAuliffe MJ

;

Cook, Kate. J.

(

Wiley

,

2022

)

Background: Written reflective practice (WRP) is a teaching tool used across speech–language therapy (SLT) clinical education programmes. The process aims to support the development of reflective skills required for the ...

Rousseau AF

;

Minguet P

;

Colson C

;

Kellens I

;

Chaabane S

;

Delanaye P

;

Cavalier E

;

Lambermont B

;

Misset B

;

Chase, Geoff

(

Springer Science and Business Media LLC

,

2021

)

Purpose: Many patients with coronavirus disease 2019 (COVID-19) required critical care. Mid-term outcomes of the survivors need to be assessed. The objective of this single-center cohort study was to describe their physical, ...