An examination of the ethical reasoning of future New Zealand accounting professionals
(1995)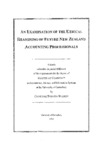 View/Open
Type of Content
Theses / Dissertations
Thesis Discipline
Accountancy
Degree Name
Master of Commerce
Collections
Authors
Walkey, Celestine Therese
show all
Abstract
A high level of ethical reasoning and behaviour is integral to the professional status of accounting. The credibility of accounting professionals has been challenged with recent media exposure of fraud and misconduct cases, both overseas and within New Zealand. A concern that the accounting profession could lose its professional status has led to research in the area of moral psychology to gain information on appropriate methods for ensuring high ethical standards. This thesis examines the level of ethical reasoning of a sample of 201 accounting students, and the variables that affect their ethical reasoning. The accounting students within this study exhibited a significantly lower level of moral reasoning than in previous research concerning university students and non- university educated adults. Minority ethnic subjects exhibited lower levels of moral reasoning than New Zealand European subjects. The results suggested that cumulative ethics education can have a positive effect on the moral reasoning of students, however, some individual courses that contain ethics education may not be effective by themselves. Subjects classified as educational/career orientated, that is, individuals who work hard, enjoy learning, and have well defined goals, exhibited high levels of moral reasoning. Few subjects perceived the learning environment of the accounting programme to be intellectually stimulating and those who did exhibited low levels of moral reasoning. Female subjects exhibited higher levels of moral reasoning than males. The implications of the results with regard to the development of the accounting curriculum, codes of ethics and counselling services are discussed.
Keywords
Accounting--Moral and ethical aspects; Accountants--Professional ethics; Accounting--Study and teaching$zNew Zealand; College students--New Zealand--Conduct of life
Rights
All Rights Reserved
Related items
Showing items related by title, author, creator and subject.
Waldron, M.

;

Fisher, R.T.

(

University of Canterbury. Department of Accounting and Information Systems

,

2016

)

Based on survey data of accounting practitioners and accounting majors, significant differences are revealed in both the structure of personal values and in ethical judgments between practitioners and students. Life-stage ...

Roberts, P.

(

University of Canterbury. School of Educational Studies and Human Development

,

2008

)

Over the past half century, Albert Camus's story 'The Guest' has attracted a great deal of scholarly attention. 'The Guest' focuses on the ethical dilemmas faced by Daru, a school teacher in Algeria, and the two visitors ...

Brandt, Christopher Perry

(

University of Canterbury. Health Sciences Centre

,

2010

)

InterRAI is an internationally validated assessment tool used in many different contexts to assist different groups of people and patients to live fuller, safer and more productive lives. In 2008, the New Zealand Ministry ...