Aristotle's account of ethical development
(2000)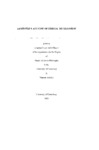 View/Open
Type of Content
Theses / Dissertations
Thesis Discipline
Philosophy
Degree Name
Master of Arts
Language
English
Collections
Abstract
What is it to be a person of good character? And how do we develop a good character? In answer to these questions I will trace Aristotle's account of ethical development, the development of a person's character. My principal source will be the mature formulation of his ethical the01y found in the Nicomachean Ethics. A good human, according to Aristotle, is one who does well what he argues it is distinctive of humans to do : expressing reason in perception and action. Ethical excellences are dispositions to such expression. To be ethically excellent is to have developed practical excellence in reason and perception, and to have developed dispositions of one's appetites and emotions - states of character - to support this reason in action. These excellent states of character are developed through habitually acting as the person of practical excellence does. I suggest there are some natural prerequisites which make up Aristotle's idea of a natural human potential for the development of a virtuous or excellent character states; in particular, that a person must have the potential to develop their reasoning element in order to have a chance of developing any sort of human character, even a vicious one. I argue this potential can be defeated early on by habitual wrong action involving appetites, resulting in brutishness. Early habituation aims to temper the child's strong appetites and guide them to right action. But in order to become an excellent person, right action is insufficient - one must habitually act excellently. Aristotle asserts this requires that one have a concern for the nobility or baseness of action, which I show is an emotional awareness developed through the habituation of the heated emotions of anger and shame. Excellent action is specified by practical wisdom, the practical excellence of reason prerequisite for complete ethical excellence. I argue that magnificence and magnanimity, two excellences of character acquired in maturity, are necessary for practical wisdom, and thus for complete ethical excellence. I use Aristotle's views on self-love and friendship to reach my conclusion that the magnanimous person with good friends represents the perfection of Aristotelian ethical development.
Keywords
Aristotle.--Nicomachean ethics; Ethics
Rights
All Rights Reserved
Related items
Showing items related by title, author, creator and subject.
Jollands S

;

Sawabe N

;

Akroyd, Chris

(

Emerald

,

2015

)

Purpose - This paper aims to examine a management control constructed by senior managers, a core value focused on sustainability, as it travels through time and space. The criticality of sustainable development suggests ...

Biswas SSN

;

Chuang S

;

Akroyd, Chris

(

Emerald Group Publishing Limited

,

2016

)

Purpose - This paper examines how the management control practices of organization members enable the alignment of product development projects with potentially conflicting corporate strategies during the product development ...

Biswas S

;

Akroyd, Chris

(

Emerald

,

2016

)

Purpose: The purpose of this paper is to examine the governance of inter-firm co-development in an open innovation setting and show how a stage-gate product development process can be used to support this relationship. ...