Geochemical investigation and computer modelling of acid mine drainage, Sullivan mine, Denniston Plateau, West Coast
(2003)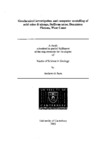 View/Open
Type of Content
Theses / Dissertations
Thesis Discipline
Geology
Degree Name
Master of Science
Language
English
Collections
Abstract
The Sullivan mine, located on the Denniston Plateau, approximately 16 kilometres from the town of Westport, produces acid mine drainage (AMD) from within abandoned mine cavities. Water discharged from the mine drives has a pH of approximately 2.8 and a flow rate of approximately 55 litres/second. This discharge also contains elevated concentrations of heavy metals such as Ni, As, Zn and Fe. Discharge water flows into nearby Rapid Stream, lowering the pH from 4.5 to 3.5. Iron oxide precipitation from AMD waters occurs both above and below the mine discharge-Rapid Stream confluence. This precipitate is high in toxic metals such as As and Cu. The high acidity and concentrations of heavy metals have resulted in a very low species biological diversity within Rapid Stream. Aquatic life concentrations do begin to slowly increase in the stream towards the coast as heavy metal concentrations and acidity levels decrease. An investigation was undertaken to determine which sediments are contributing to AMD at the Sullivan mine site. This study involved a range of static and kinetic acid-generating tests designed to determine the degree of acid-producing potential of each rock unit at the Sullivan mine site. This study also used geochemical analysis of rock units present at the mine, AMD discharge water, and leachate sourced from acid-generating tests. Kinetic tests show that the dominant acid-producer at Sullivan mine are mudstones, producing leachate with pH ranging from 2.7 to 2.5. Coal units are also a major contributor, with a leachate pH of 2.8. Sandstones appear to be slightly acid-neutralising, with pH from leachates around 5.3-5.5, which are higher than the pH of distilled water (5.1). Reaction path modelling using the GAMSpath program was undertaken to the predict the change of drainage chemistry over time to assist in the design of remediation plans at Sullivan mine. As GAMSpath can only model closed systems, results show that only static acid-generation test pH trends could be accurately simulated. These tests show that GAMSpath cannot initially predict the start of acid-generation because GAMSpath is unable to model processes such as cation exchange capacity (CEC), but it can predict longer term pH trends with some accuracy. Results of kinetic test simulations show that predicted AMD trends at the Sullivan mine cannot be simulated because it has water flowing through the mine which removes elements, making the site an open system. This results in GAMSpath being unable to accurately model the site. However, if the mine is sealed up, producing a closed system environment, GAMSpath is able to model the resulting mine water pH. Under this scenario modelling shows that the pH is expected to drop below pH 1, however this is a conservative estimate and the pH could drop even lower. Further investigations are needed using a more robust open-system model to predict mine water chemistry change over time.
Keywords
Acid mine drainage--New Zealand--Buller District; Acid mine drainage--New Zealand--Buller District--Computer simulation; Geochemistry--New Zealand--Buller District
Rights
All Rights Reserved
Related items
Showing items related by title, author, creator and subject.
Forbes, Emma Jane

(

University of Canterbury

,

2018

)

Bellvue Mine is an abandoned mine north of Greymouth, Rapahoe, West Coast. Although abandoned since the 1970's, acid mine drainage is still being discharged from the mine and contaminating the nearby, Cannel Creek. A ...

Schowe, Kate

(

University of Canterbury. Biological Sciences

,

2012

)

Acid mine drainage (AMD) is a major environmental issue worldwide. On the West Coast of the South Island, New Zealand, numerous catchments receive AMD, with significant negative impacts on in-stream flora and fauna. Diatoms ...

Bray, Jonathan Peter

(

University of Canterbury. Biological Sciences

,

2007

)

Physicochemical factors, algal diversity, taxonomic composition and standing crop were investigated across a broad gradient of AMD stress in streams and rivers. 52 sites were surveyed in the vicinity of Greymouth, Reefton, ...