Ways of working with families where a parent has a psychiatric disability
(2001)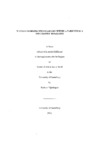 View/Open
Type of Content
Theses / Dissertations
Thesis Discipline
Social Work
Degree Name
Master of Arts
Language
English
Collections
Abstract
Many people who are clients of adult mental health services are parents of dependent children yet little is known about what happens in clinical practice in relation to either them or their children. The purpose of this study is to develop an understanding of clinical practice in an outpatient/community based mental health service in relation to clients who are parents. Four focus groups with clinicians from a Community Mental Health Service in Christchurch, Aotearoa New Zealand were utilised as the principal method of data generation. A fifth focus group was unde1iaken with clients of the CMHS who were parents, the purpose of which was to establish a client context and reference point for the clinician focus groups. A thematic analysis was used to interrogate the qualitative data generated. Firstly, the findings reveal that whereas clinicians have a good understanding of the issues faced by parents who have a severe mental illness they are much less knowledgeable about the risks faced by children in these families and about how to decrease the likelihood that negative outcomes will occur. Secondly, the groups provide a description of the practice of clinicians with clients who are parents and their children. Thirdly, they illuminate a wide range of factors that affect and impact on practice including: the organisational context, a range of constraints, multi­ disciplinary roles, variation and inconsistency in practice and team process and function. Finally, the professional focus groups reveal three issues that arise from clinical practice which clinicians must grapple with: care and protection issues whether to be 'adult' or 'parent' focused in their practice, and the complexity of the clinical situations encountered. The discussion also focuses on implications for the mental health service system, training and workforce development and further research is discussed.
Keywords
Psychiatric social work--New Zealand; Children of the mentally ill--New Zealand; Families of the mentally ill--New Zealand
Rights
All Rights Reserved
Related items
Showing items related by title, author, creator and subject.
Morgan, Kathryn Dawn

(

University of Canterbury

,

2020

)

This qualitative study acknowledges the pervasive social context of heteronormativity within early childhood education and society in general. It investigates how five early childhood teachers used picturebooks as a possible ...

Darling, Kathryn Ann

(

University of Canterbury

,

2019

)

Background: ADHD is a common and chronic neurodevelopmental disorder of childhood, with far-reaching implications throughout the life course. Social skills and executive function are commonly impaired in children with ADHD ...

Studies published in journals in the West have never looked at problems of the stigma of mental retardation in India. Most studies so far have focussed on stigmas in general, but have not investigated it along with family ...