Refuge or turmoil? : Somali adolescent refugees in Christchurch schools : intercultural struggle and the practices of exclusion
(1998)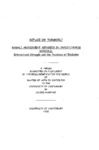 View/Open
Type of Content
Theses / Dissertations
Thesis Discipline
Sociology
Degree Name
Master of Arts
Language
English
Collections
Abstract
Somali refugees have resettled in New Zealand since 1993. Yet, there is a dearth of information about their experience in this country. This thesis moves into uncharted territory by considering the adaptation of Somali adolescent refugees to secondary school in Christchurch. It argues that, just as Somali adolescents are struggling to cope with the New Zealand school experience, so too are Christchurch schools in a struggle to be inclusive within a constraining socio-political environment. As a result; school remains a continual site of intercultural struggle involving a complex interplay of vested interests, systemic biases, disjuncture, compliance and resistance. The adaptation process through which Somali students travel is fraught with difficulties because they are situated at the intersecting point of two competing cultures at school. As the educational culture prioritises the interests, norms and values of the dominant group, Somali students are frequently asked to choose between educational adaptation and their cultural identity. Data gained from interviews with Somali adolescents, Somali parents and educators demonstrate that the students alternate between resistance and compliance to this demand, highlighting the conceptualisation of school as a site of intercultural struggle. Schools are also experiencing difficulties in coping with the differential needs and culture that Somali adolescents embody, resulting in a dual process of adjustment. Nevertheless, because the power relationship between Somali students and Christchurch schools is unequal, educational institutions are usually able to contest the challenges that Somali students represent. Interview data indicates that policy/practice disjunctures and systemic biases within education constrain Christchurch schools and that they are consequently unsure of how to be inclusive of Somali needs and culture. Throughout the thesis comparisons are drawn with research involving refugees from other ethnic groups and it is clear that the difficulties Somali face reflect those experienced by refugees as a whole. However, such disadvantage is not inevitable and recommendations for improvement are an important contribution of the study.
Keywords
Culture conflict--New Zealand--Christchurch; Somali students-Cultural assimilation--New Zealand--Christchurch; Refugee children--Cultural assimilation--New Zealand--Christchurch; Somalis--Education (Secondary)--New Zealand--Christchurch
Rights
All Rights Reserved
Related items
Showing items related by title, author, creator and subject.
East M

;

Tolosa C

;

Biebricher C

;

Howard J

;

Scott A

(

TLRI

,

2018

)

The purpose of this TLRI-funded study was to investigate how five Year 7/8 teachers of additional languages in four primary/intermediate schools in New Zealand supported their students to develop their intercultural ...

East M

;

Tolosa C

;

Biebricher C

;

Howard J

;

Scott A

(

Languages Research NZ

,

2018

)

In the context of a two-year project (2016-2017) funded by the Ministry of Education through the Teaching and Learning Research Initiative (TLRI), a team of five researchers worked in partnership with five primary/intermediate ...

Fickel LH

;

MacFarlane S

;

Macfarlane AH

;

Nieto Angel, Maria Carolina

(

2016

)