Young & restless : negotiating youthful gender identities in a "postfeminist" era
(1999)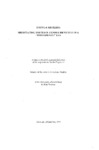 View/Open
Type of Content
Theses / Dissertations
Thesis Discipline
American studies
Degree Name
Master of Arts
Language
English
Collections
Abstract
Within contemporary 'western', industrial culture the nature and experience of femininity and masculinity is characterised by tension and contradiction. This thesis looks at how young, subcultural women and men negotiate and make sense of their own gendered identities from within this cultural context. Combining the insights and methodologies of Cultural Studies and qualitative inquiry, it examines a lived youth subculture and representations of youth in popular culture as potential sites for the development and articulation of changing modes of femininity and masculinity. Within these spaces young women and men develop various strategies and practices to resist and challenge patriarchal relations of power and to de-naturalise femininity and masculinity. This study explores but also problematises the resistances and youthful rebellions of subcultural women and men. It examines the contradictions and compromises articulated by these women and men as they simultaneously engage with and seek an escape from dominant cultural values and assumptions. This thesis discusses and analyses the nature of youthful, subcultural gender identities by looking at them in terms of processes of cultural hegemony.
Keywords
Gender identity; Identity (Psychology) in youth; Femininity; Masculinity; Subculture
Rights
All Rights Reserved
Related items
Showing items related by title, author, creator and subject.
Covich, Anna-Maria Ruth

(

University of Canterbury. Social and Political Sciences

,

2012

)

The academic study of comic books - especially superhero comic books - has predominantly focused on the analysis of these books as texts, as teaching and learning resources, or on children as comic book readers. Very little ...

Cupples, Julie

(

University of Canterbury. Geography

,

2002

)

There is a clear relationship between motherhood and space in the sense that motherhood is constituted spatially, taking specific and shifting forms in different spaces and because gendered geographies are made, remade or ...

Ferguson, Graeme William

(

University of Canterbury. School of Educational Studies and Leadership

,

2014

)

Increasingly since the 1990s those of us who are interested in gender issues in education have heard the question: What about the boys? A discourse has emerged in New Zealand, as in other countries including Australia, ...