Stripping men : a comparison of the New Zealand play Ladies Night and the British film The Full Monty as they (re)define maleness in the post-feminist world
(2000)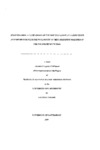 View/Open
Type of Content
Theses / Dissertations
Thesis Discipline
Theatre and Film Studies
Degree Name
Master of Arts
Language
English
Collections
Authors
Parker, George William Rodolph
show all
Abstract
In what appears to be a reversal of conventional gender roles the male characters of the New Zealand play Ladies Night (1987) and the British film The Full Monty (1997) strip for a female audience. The phenomenal success of this 'reversal' has spawned a plagiarism lawsuit in which the writers of the play maintain that the film is merely their original text 'opened out'. This thesis explores Ladies Night and The Full Monty as symptoms and representations of a so-called male crisis, comparing them to see how the men that make them (re)define maleness in the 'Post-feminist' era. It examines the notion that popular (male) culture has taken over -- in essence, plagiarised -- the position of the feminine 'other' as a means of reasserting status quo (ante) of male dominance. The idea of plagiarism serves as a paradigm for a wider exploration of the appropriations and exploitations of these recent developments in popular culture, especially in relation to gender and male identity as it intersects with ideas of sexuality, race and class. By looking at plagiarism in terms of 'theft by imitation', this thesis analyses the ways in which cultural entertainments that represent men use, appropriate, imitate, invert, reject, and comment upon the traditional position of women as 'other' as a means to represent the plight of the contemporary male and his culture. What do men achieve, or might they be seen to achieve,· by appropriating the discourse and role of the female 'other' in this way? In stripping back the generic layers that are used to stage/frame the male bodies and their relationship with the audience, what is revealed is a successful attempt by men to reclaim their centrality in culture by seducing the audience's pity and sympathy and by the representation of 'equality' between men and women.
Keywords
McCarten, Anthony,--1961---Ladies night; Full monty (Motion picture); Male striptease; Masculinity in popular culture
Rights
All Rights Reserved
Related items
Showing items related by title, author, creator and subject.
Ferguson, Graeme William

(

University of Canterbury. School of Educational Studies and Leadership

,

2014

)

Increasingly since the 1990s those of us who are interested in gender issues in education have heard the question: What about the boys? A discourse has emerged in New Zealand, as in other countries including Australia, ...

Tay, Geniesa

(

University of Canterbury. Media and Communication

,

2012

)

The Internet, and Web 2.0 tools can empower audiences to actively participate in media creation. This allows the production of large quantities of content, both amateur and professional. Online memes, which are extensions ...

Jacobs-Sera D

;

Abad LA

;

Alvey RM

;

Anders KR

;

Aull HG

;

Bhalla SS

;

Blumer LS

;

Bollivar DW

;

Alfred Bonilla J

;

Butela KA

;

Coomans RJ

;

Cresawn SG

;

D'Elia T

;

Diaz A

;

Divens AM

;

Edgington NP

;

Frederick GD

;

Gainey MD

;

Garlena RA

;

Grant KW

;

Gurney SMR

;

Hughes LE

;

Kenna MA

;

Klyczek KK

;

Kotturi H

;

Mavrich TN

;

McKinney AL

;

Merkhofer EC

;

Parker JM

;

Molloy SD

;

Monti DL

;

Pape-Zambito DA

;

Pollenz RS

;

Pope WH

;

Reyna NS

;

Rinehart CA

;

Russell DA

;

Shaffer CD

;

Sivanathan V

;

Stoner TH

;

Stukey J

;

Nicole Sunnen C

;

Tolsma SS

;

Tsourkas PK

;

Wallen JR

;

Ware VC

;

Warner MH

;

Washington JM

;

Westover KM

;

Whitefleet-Smith JAL

;

Wiersma-Koch HI

;

Williams DC

;

Zack KM

;

Hatfull GF

;

Hendrickson, Heather

(

Public Library of Science (PLoS)

,

2020

)

The bacteriophage population is vast, dynamic, old, and genetically diverse. The genomics of phages that infect bacterial hosts in the phylum Actinobacteria show them to not only be diverse but also pervasively mosaic, and ...