The role of the press in maintaining social ideology
(1998)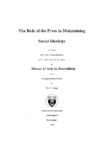 View/Open
Type of Content
Theses / Dissertations
Thesis Discipline
Journalism
Degree Name
Master of Arts
Language
English
Collections
Abstract
The press perform a crucial role in facilitating the social, economic and political spheres which combine to bind society together. This thesis looks at the relationship between the press and ideology. It provides an account of the way ideology works through the press to influence the community and asserts that the role of the press is fundamental to the maintenance of social ideology. The thesis discusses the Marxist view of the role of the press in society, and the arguments which support this perspective - false consciousness, cognitive schema theory, symbolism and ritual, and concentration of ownership. Concentration of ownership creates conditions which define the content of the press by influencing newspaper - structures, the role of sources and the role of public relations. This discussion is supported by a study which assesses qualitatively and quantitatively the values of corporate representation in the press. This reveals a significant correlation between the interests of corporations and the content of the press.
Keywords
Press--New Zealand; Public opinion--New Zealand; Philosophy, Marxist; Ideology--New Zealand; Journalism--Social aspects--New Zealand; Journalism, Commercial--New Zealand
Rights
All Rights Reserved
Related items
Showing items related by title, author, creator and subject.
This thesis assesses the relationship between media exposure of leading New Zealand politicians and their public support ratings, as measured by public opinion polls. It examines the complex symbiotic, yet often ...

McNab, Fiona Kristy

(

1995

)

The aim of the thesis is to examine whether there are differences within public opinion of certain socio- and economic policy issues, highlighting the strength of opinion between the genders. The 1990 and 1993 Vowles and ...

This thesis exammes the considerable changes which New Zealand has experienced in the last decade in relation to immigration policies and race relations. These changes are examined in the context of the controversies which ...