Dretske's representational thesis
(1999)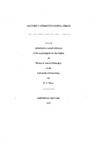 View/Open
Type of Content
Theses / Dissertations
Thesis Discipline
Philosophy
Degree Name
Master of Arts
Language
English
Collections
Abstract
The aim of this thesis is to defend the negative thesis that it is not the case that all mental facts are facts about indicator functions. That which I am arguing against is Fred Dretske's Representational Thesis. The Representational Thesis constitutes an attempt to naturalise features of the mind wh1ch have proved elusive to materialist theories of mind. I argue that such features prove equally elusive to the Representational Thesis. Essentially, my main contention is that there are mental facts which are not facts about indicator functions. To support this position, I appeal (in chapter III) to a version of the knowledge argument against physicalism, which I modify for direct use against the Representational Thesis. This approach has the preliminary result of yielding two types of mental facts that may not be facts about indicator functions. Upon closer investigation, one of these two types of facts is found to be more likely to be readily amenable to the Representational Thesis than the other. The other type of facts relate more directly to features of our experiences that the Representational Thesis cannot adequately deal with. I explore what these features are more fully in chapter IV. I do this by defining them more carefully and then examining certain imaginary situations in which different creatures seem to differ in these features in ways that are not satisfactorily explained by the Representational Thesis. It is because these creatures differ in such features, that we find that there are mental facts about them which are not explicable solely in terms of indicator functions. Consequently, the Representational Thesis is false.
Keywords
Dretske, Fred I.; Jackson, Frank,--1943-; Knowledge, Theory of--History--20th century; Philosophy of mind--History--20th century; Qualia
Rights
All Rights Reserved
Related items
Showing items related by title, author, creator and subject.
Turp, Michael-John

(

2013

)

This article outlines the research methodology and some key findings from my doctoral research project (Manning, 2008), which examined the status of Te Atiawa histories of place in Port Nicholson Block secondary schools' ...