Commercial wildlife viewing tourism in the South Island : a comparative analysis
(1993)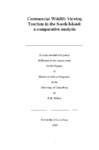 View/Open
Type of Content
Theses / Dissertations
Thesis Discipline
Geography
Degree Name
Master of Arts
Language
English
Collections
Abstract
This thesis explores the planning and management of commercial wildlife viewing tourism. A conceptual framework was developed to aid the understanding of both the supply and demand perspectives of wildlife viewing. The characteristics and actions of the three parties involved in planning and management: the tourists, operators and administrators- were investigated in addition to the way the parties worked together to achieve the goals of tourism planning and management: stimulating economic rewards, satisfying the tourist and protecting the resources on which the tourism is based. In order to facilitate the identification of all the issues involved with this distinct type of nature based tourism eleven commercial wildlife viewing tourism operations in the South Island of New Zealand were examined which focussed on different species of both bird and marine mammals and provided a variety of viewing experiences. In terms of demand, the key point identified was the heterogeneity of wildlife viewing tourists. Variation in socio-demographic, attitudinal characteristics and the tourists' level of interest in wildlife were evident overall and between the eleven operations examined. Further examination of the tourists' level of interest in wildlife and, consequently, their socio-demographic and attitudinal characteristics revealed that a continuum of tourist types existed, from generalist to 'expert specialist' viewers. On the supply side of commercial wildlife viewing tourism, two key factors which govern the way in which the operations studied hen (and operations elsewhere in New Zealand) are planned and managed are: the type of wildlife viewed at the operation and, (for birds) the tenure of the land on which the wildlife are located. The key conservation administrator in New Zealand- the Department of Conservation (DoC)- only has influence and authority over marine mammal based operations and bird based operations which are located on protected land. Varying levels of departmental involvement in commercial wildlife viewing tourism has led to a lack of coherence in the planning and management strategies at the different operations. It is suggested that the key reasons for this lack of coherence is that wildlife viewing tourism is yet to have been recognised in New Zealand as a distinct form of nature based tourism and because there has been a lack of study which integrates the supply and demand components of the tourisnm system. The fragility of the resources upon which it depends, however, means that commercial wildlife viewing tourism needs to be the subject of specifically focussed planning and management involving key government departments such as DoC in order that it continues to stimulate economic rewards and satisfies the tourists while protecting the unique birds and mammals of New Zealand.
Keywords
Ecotourism--New Zealand--South Island; Wildlife watching--New Zealand--South Island
Rights
All Rights Reserved
Related items
Showing items related by title, author, creator and subject.
Darling M

;

Wilson T

;

Orchiston C

;

Adams B

;

Bradley, Brendon

(

2019

)

1. Identify the risks posed by disasters to transient population groups in the New Zealand disaster risk management context. 2. Develop novel methods to assess disaster risk for transient populations in space and time, ...

Davies AJ

;

Sadashiva V

;

Aghababaei M

;

Barnhill D

;

Costello SB

;

Fanslow B

;

Headifen D

;

Hughes MW

;

Kotze R

;

Mackie J

;

Ranjitkar P

;

Thompson J

;

Troitino DR

;

Wilson TM

;

Woods S

;

Wotherspoon LM

(

2017

)

At 00:02 on 14th November 2016, a Mw 7.8 earthquake occurred in and offshore of the northeast of the South Island of New Zealand. Fault rupture, ground shaking, liquefaction, and co-seismic landslides caused severe damage ...

Darling M

;

Adams B

;

Orchiston C

;

Bradley B

;

Wilson, Thomas

(

2019

)

In an era of heterogeneous data, novel methods and volunteered geographic information provide opportunities to understand how people interact with a place. However, it is not enough to simply have such heterogeneous ...