Dorothy Kate Richmond, 1861-1935
(1994)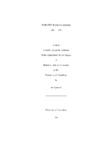 View/Open
Type of Content
Theses / Dissertations
Thesis Discipline
Art History
Degree Name
Master of Arts
Language
English
Collections
Abstract
Traditional art history has neglected the significance of Dorothy Kate Richmond as one of the first generation of New Zealand-born women to have successfully negotiated her career as an artist. This thesis presents a re­ evaluation of Richmond's place in the history of New Zealand art. Chapter one examines her early development up to 1903 and her return from her last trip to Europe, considering the importance of the support and encouragement which she received from her father. Belonging to an educated and cultured family with Unitarian religious beliefs, who held liberal views on the education of women, Richmond received her earliest formal art training at the Slade School of Fine Art in London. Biographical and historical circumstance combined to formulate her early artistic development. Chapter two cha1ts the construction of her career as a painter, teacher and council member of the NZAFA. It challenges traditions of professionalism as they have been applied to male artists to the exclusion of women. It defines what professionalism meant for Richmond. Chapter three examines Richmond's artistic development within three periods defined by the importance of her last European trip from 1900-03. It was during this period that she showed her versatility as a painter in her use of medium and in her range of themes. The chapter emphasizes the significance of the cultural contexts of Europe and of New Zealand where she subsequently concentrated on watercolour landscapes and still-life for her artistic output. Chapter four considers how Richmond was received by her contemporaries as well as how she was treated by critics and art historians after her death. It highlights those criticisms which have unjustly prejudiced the perception of Richmond as a professional artist who contributed to the development of art within New Zealand at the beginning of this century.
Keywords
Richmond, Dorothy Kate,--1861-1935; Women artists--New Zealand--Biography
Rights
All Rights Reserved
Related items
Showing items related by title, author, creator and subject.
Woodall, Ingrid Kate

(

1993

)

As with much in women's history, even recent events in our past have been rendered invisible by male historians and the art establishment. Nowhere in the main stream art history books or catalogues has there been a significant ...

Prebble, Dorothy May Phyllis

(

1933

)

Aitken, Jeremy

(

University of Canterbury

,

2017

)

If one considers the event of recent years, as in Syria or with the Rohingya peoples, the world is struggling to deal with refugee crises. In this age of uncertainty, perhaps looking at the examples of our ancestors may ...