The role of the government in the development of the New Zealand tourist industry, 1901-1979
(1979)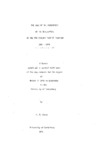 View/Open
Type of Content
Theses / Dissertations
Thesis Discipline
Geography
Degree Name
Master of Arts
Language
English
Collections
Abstract
This thesis examines the role of the Government in the development of the New Zealand tourist industry since 1901. It examines the tourist policies of successive New Zealand Governments and accounts for the factors which have influenced the formulation of that policy. To elucidate the practical application of Government tourist policy the activities of the Tourist and Health Resorts Department and its successor the Tourist and Publicity Department and Tourist Hotel Corporation, as the most direct instigators of that policy, is also examined. Other Government Bodies involved in Tourist Development such as the Railways Department, Air New Zealand, National Parks Authority, Licensing Control Commission and the Lands and Survey Department is considered but only in as much as they affect the action of the Tourist Department itself. The thesis uses the political, social, spatial and economic perspectives employ d by the historical geographer to examine the changing role of the Government in the development of the tourist industry. It places that role within the context of the Government's response to economic, political and social considerations. Three general stages of Government tourist policy are identified and their practical application is examined under the themes of: the leadership role of the State, which examines the relationship of the public and private sector; the activities of the tourist bodies in the development of the national tourist system; and the role of Government in influencing tourist movements. To place the thesis in perspective a chapter is also devoted to the role of the Government before 1901.
Keywords
Tourism--Government policy--New Zealand
Rights
All Rights Reserved
Related items
Showing items related by title, author, creator and subject.
E-government is a relatively recent phenomenon that has emerged out of developments in Information Communication Technologies (ICT), especially the Internet and the World Wide Web. Along with many other Western nations, ...

Stewart E

;

Espiner S

;

Liggett D

;

Taylor Z

(

2017

)

Situated to the south of New Zealand in the Southern Ocean are the New Zealand Subantarctic Islands, comprising the Auckland, Campbell, Antipodes, Snares and Bounty Islands. Sometimes referred to as the 'Forgotten Islands', ...