"Let readers imagine" : rhetorical manipulation in three transgressive novels
(2001)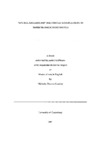 View/Open
Type of Content
Theses / Dissertations
Thesis Discipline
English
Degree Name
Master of Arts
Language
English
Collections
Authors
Gourley, Michelle Therese
show all
Abstract
This thesis will examine three novels, Lolita (Vladimir Nabokov 1955), A Clockwork Orange (Anthony Burgess 1961) and American Psycho (Bret Easton Ellis 1991), and the rhetorical techniques, devices and strategies that function within these texts to manipulate the response of the reader. The three novels are transgressive texts in the sense that their narrators, Humbert Humbert, Alex and Patrick Bateman, all transgress fundamental societal taboos. Their abhorrent behaviour suggests a response from the reader of repugnance and disgust. Instead, we find ourselves imaginatively identifying and empathising with these vicious literary monsters, and thus the novels prove shocking. It will be argued that the effect of this unexpected and reluctant sense of identification is to complicate and extend our sense of the human, and the processes and patterns by which we judge evil. This results in a new awareness for the reader: an understanding that our moral assumptions do not exist within a stable moral framework. Consequently, we can not easily define ourselves against those whom we perceive as evil. In reading these novels and acknowledging a sense of empathy for the narrators, we broaden our moral perspectives, gain deeper levels of understanding and allow for a world full of uncertainties and possibilities.
Keywords
Nabokov, Vladimir Vladimirovich,--1899-1977--Lolita; Burgess, Anthony,--1917---Clockwork orange; Ellis, Bret Easton.--American psycho.; Fiction--20th century--History and criticism; Empathy in literature
Rights
All Rights Reserved
Related items
Showing items related by title, author, creator and subject.
Rogers, Damien Robert

(

2000

)

This thesis examines the work of three major Indian novelists belonging to consecutive generations whose responses to the legacy of colonialism emerges from and signals important historical shifts in postcolonial India. ...

Evans, P. D.

(

University of Canterbury. English

,

1974

)

There are three major points which this study attempts to discuss and illustrate. Firstly, it is suggested that much recent American fiction generally described as belonging to the "comic-apocalyptic genre" can better be ...

Howard, Nicole Marie

(

University of Canterbury. English

,

2015

)

Mark Z. Danielewski's House of Leaves and Audrey Niffenegger's two visual novels The Three Incestuous Sisters and The Adventuress all contain examples of manipulated paratext - paratexts being the devices involved in the ...