E-govt.nz : a sociological exploration of e-government in New Zealand
(2004)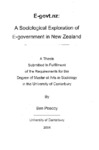 View/Open
Type of Content
Theses / Dissertations
Thesis Discipline
Sociology
Degree Name
Master of Arts
Language
English
Collections
Abstract
E-government is a relatively recent phenomenon that has emerged out of developments in Information Communication Technologies (ICT), especially the Internet and the World Wide Web. Along with many other Western nations, New Zealand is embracing ICT as a way of making government more transparent, cheaper to run, more efficient, and more accessible to its citizens. As a result, there has been an upsurge in the use of ICT at all levels of government in New Zealand. Part of this reflects the direction that central government has taken with its plans to implement a system of e-government by 2007, and part is the increasing emphasis that all tiers of the public sector have placed on efficiency and the need to curtail costs while improving outputs. It is not only central government that is involved in these developments, however. Local government (regional and local) is also increasingly appreciating the benefits that ICT can have for its operations. Through a combination of documentary analysis and interviews with e-government officials, this thesis seeks to present a qualitative analysis of how e-government in New Zealand has been implemented at a local level (particularly by four local authorities), strategised at a national level (through the work of the national E­ government Unit) and sits within a comparative international context (by comparing New Zealand e-government developments with what has taken place in the United States, the United Kingdom, Canada, Singapore and Australia). The literature one-government focuses overwhelmingly on the technicalities involved in setting up an ICT system. As a result, many of the social issues that are associated with e-government are often ignored or not given adequate coverage. This thesis seeks to address this imbalance by focusing on the issues of security, privacy, trust, the digital divide, the lack of social and cultural capital and the tensions that exist between the roles of client, customer and citizen within this emerging e-context.
Keywords
Internet in public administration; Internet in public administration--New Zealand; Internet in public administration--Social aspects--New Zealand; Internet in public administration--Social aspects--New Zealand; Electronic government information--New Zealand; Electronic government information--Government policy--New Zealand
Rights
All Rights Reserved
Related items
Showing items related by title, author, creator and subject.
Mills, Annette

;

Carter, L.

;

Belanger, F.

(

2010

)

Given the substantive investments that governments are making in information technology and the development of e-government channels to improve interactions with citizens, there is increasing interest in determining whether ...

Roberts, Vanessa Maree

(

2005

)

Policy transfer is one possible explanation for how and why the state of Victoria in Australia adopted strikingly similar public sector reforming policies to those implemented by New Zealand from the mid-1980s to early ...

Franklet D

;

Meriluoto L

;

Ross G

;

Scott C

;

Williams P

(

2018

)

This paper discusses the avenues through which a public implementation of blockchain could deliver efficiency gains in the running of a government. We discuss some of the current inefficiencies in recordkeeping and the ...