Co-Gasification of Refuse Derived Fuel and Wood Chips in the Nong Bua Dual Fluidised Bed Gasification Power Plant in Thailand
(2022)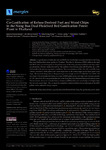 View/Open
Type of Content
Journal Article
Publisher
MDPI AG
ISSN
1996-1073
Language
en
Collections
Authors
Hongrapipat J
Rauch R
Liplap P
Arjharn W
Messner M
Henrich C
Koch M
Hofbauer H
Pang, Shusheng
show all
Abstract
Co-gasification of refuse derived fuel (RDF) and wood chips was experimented in the Nong Bua dual fluidised bed steam gasifier in Thailand. The effect of the mass of RDF pellets in the feed fuel (R/F ratio) was investigated on the performance of the entire process conditions and the product gas properties. The test results showed that the addition of small mass ratio of RDF pellets up to 30% did not affect the process operation conditions. The concentrations of H2, CO, CO2, and CH4 from a binary mixture of RDF pellets and wood chips were in the same ranges as that from pure wood chips. The lower heating value of the product gas was as high as 13.2–13.6 MJ/Nm3 for all the R/F ratio fuels. It is concluded that binary mixtures of RDF pellets and wood chips with the mass percent of R/F ratio of 10–30% are good feedstocks in the Nong Bua dual fluidised bed gasification process. The tar content, however, from the binary mixtures of RDF pellets and wood chips was higher than that of pure wood chips. The tar must be completely removed before the product gas of the RDF pellets can be utilised in the gas engine.
Citation
Hongrapipat J, Rauch R, Pang S, Liplap P, Arjharn W, Messner M, Henrich C, Koch M, Hofbauer H Co-Gasification of Refuse Derived Fuel and Wood Chips in the Nong Bua Dual Fluidised Bed Gasification Power Plant in Thailand. Energies. 15(19). 7363-7363.
This citation is automatically generated and may be unreliable. Use as a guide only.
Keywords
refuse derived fuel; co-gasification; dual fluidised bed; Nong Bua gasification power plant
ANZSRC Fields of Research
40 - Engineering::4008 - Electrical engineering::400803 - Electrical energy generation (incl. renewables, excl. photovoltaics)
40 - Engineering::4011 - Environmental engineering::401106 - Waste management, reduction, reuse and recycling
Rights
All rights reserved unless otherwise stated
Related items
Showing items related by title, author, creator and subject.
Siriwongrungson V

;

Hongrapipat J

;

Kuba M

;

Rauch R

;

Pang S

;

Thaveesri J

;

Messner M

;

Hofbauer H

(

Springer Science and Business Media LLC

,

2020

)

Bed materials and their catalytic activity are two main parameters that affect the performance of the dual fluidized bed (DFB) gasification system in terms of product gas composition and tar levels. Two sources of bed ...

Wang J

;

Jiang J

;

Sun Y

;

Wang X

;

Li M

;

Ruan R

;

Ragauskas AJ

;

Ok YS

;

Tsang DCW

;

Pang, Shusheng

(

Elsevier BV

,

2021

)

Catalytic conversion of waste rubbers and plastics into aromatic hydrocarbons is a promising approach to waste management and energy recovery. In the present study, acidic HY zeolites were supported by cobalt, iron, and ...

Watson N

;

Mukhedkar R

;

Nair N

;

Lie T

;

Rayudu R

;

Le Quellec I

;

Lapthorn, Andrew

(

2021

)

The electrical grid which enables our modern way of life was conceived more than 100 years ago. The industrial and consumer loads and generator technologies of the past were all based on alternating current (AC), leading ...