Part-time farming in the Christchurch rural-urban fringe
(1974)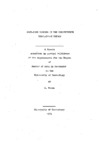 View/Open
Type of Content
Theses / Dissertations
Thesis Discipline
Geography
Degree Name
Master of Arts
Language
English
Collections
Abstract
This thesis examines the structure and development of part-time farming in part of the Christchurch rural-urban fringe. Due to a lack of published data, information was obtained from a questionnaire survey of 95 randomly seclected part-time farmers in Paparua County. The numerical importance and recency of part-time farming in the study area is outlined, as are the principal factors influencing the size and location of part-time holdings. Part-time farmers were found to be mainly middle aged and elderly, and economically independent of farm derived income. The most important reason for the development of part time farming is identified as a desire for rural living in response to the increasing pressures of urban life. A secondary reason is the investment potential of these units. Nearly three-quarters of the part-time holdings are used for agriculture, although one-third are operated by someone other than the property owner. Part-time farmers tend to adopt low-intensity types of land-use. Land-use choice is conditioned by several factors, of which profit maximization is the most important, although low labour and capital requirements, and environmental limitations act as important constraints on the range of land-use choices. Holdings are characterized by low levels of labour and capital input, and low levels of productive output. However the majority of farmers indicated that they intend to intensify production in an effort to increase farm profitability. In addition, one-third of those property owners who currently do not use their holdings for agriculture, intend to do so in the future. The remaining part-time holdings fulfill Solely residential, recreational and investment functions. It is concluded that provision should be made for the development of part-time farming in zones located on poorer quality soils, at some distance from the city. Furthermore, it is suggested that a co-operative farm management and marketing organization be formed to facilitate the use of part-time holdings for agriculture.
Keywords
Part-time farming--New Zealand--Christchurch
Rights
All Rights Reserved
Related items
Showing items related by title, author, creator and subject.
Kirby, Harold Alexander

(

University of Canterbury. Department of Education

,

1930

)

morgenroth, justin

(

2022

)

Tree canopy cover (TCC) is an important way of describing urban forest extent and distribution and can be used to assess the ecosystem services they provide. Tree canopy cover was mapped for Christchurch, New Zealand by ...

Growing food is an important part of food resilience, not only because of food security but because of the connections between people, plants and soil that growing food engenders. This thesis is about such connections ...