Physical and metaphysical visualities: Vasily Rozanov and historical artefacts
(2022)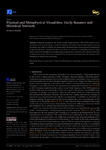 View/Open
Type of Content
Journal Article
Abstract
In Russian modernism, the work of writer Vasily Rozanov (1856–1919) presents an un derstudied case of constructing a worldview based on the study of the parallel history of human physicality and artefacts, which he articulated within the framework of the physical and metaphysical. I argue that Rozanov widened the domain of what was viewed as "compelling visuality" at his time, in line with the subjective synthesising principles of his worldview. He looked in art for the manifestations of that which he considered to be eternal and trans-historical: the mystery of the metaphysical roots of human sexuality.
Citation
Mondry H (2022). Physical and metaphysical visualities: Vasily Rozanov and historical artefacts. Arts. 11(70). 1-11.
This citation is automatically generated and may be unreliable. Use as a guide only.
Keywords
Russian modernism; art historical hermeneutics; compelling visualities; embodied sexualities
ANZSRC Fields of Research
47 - Language, communication and culture::4705 - Literary studies::470505 - Central and Eastern European literature (incl. Russian)
Rights
Copyright: © 2022 by the author. Licensee MDPI, Basel, Switzerland. This article is an open access article distributed under the terms and conditions of the Creative Commons Attribution (CC BY) license (https:// creativecommons.org/licenses/by/ 4.0/).
Related items
Showing items related by title, author, creator and subject.
This article considers the visual poetics of the prominent contemporary Russian poet and poetry translator Andrei Sen-Senkov whose work is examined through the Deleuzian lens as a prime example of rhizomatic poetry. ...

This article discusses the place of God in the poetic system of Aleksandr Vvedensky. Vvedensky's famous pronouncement on his "poetic critique" is more throughgoing than Kant's critical enterprise, and invites a comparison ...

Roberts, P.

(

University of Canterbury. School of Educational Studies and Leadership

,

2013

)

In Fyodor Dostoevsky's influential novel Notes from underground, we find one of the most memorable characters in nineteenth century literature. The Underground Man, around whom everything else in this book revolves, is in ...