Factors affecting the adjustment and academic performance of Malaysian students at the University of Canterbury
(1983)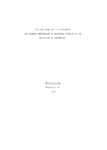 View/Open
Type of Content
Theses / Dissertations
Thesis Discipline
Education
Language
English
Collections
Abstract
For many foreign students, trying to fit into a new society without any formal introduction requires strenuous effort and the problems encountered are not to be underestimated. If, in fact, most foreign students do encounter adjustment problems, what effect do these difficulties have on their academic performance? Are the problems a real hindrance? How are their studies affected? The main purpose of this study was to investigate the influence of the adjustment process on one group of foreign students' academic achievement. The group studied was Malaysian students at the University of Canterbury. The second aim of the study was to examine whether the adjustment problems that these foreign students experienced were unique or whether they could be typical problems that could confront any student at Canterbury University. This comparison is a new aspect to such research as previous studies have focussed only on the difficulties of foreign students alone. If the problems are typical of those faced by all students, then, the solutions for overcoming them should be recommended for all students and not only for a particular group.
Rights
All Rights Reserved
Related items
Showing items related by title, author, creator and subject.
Edmonds, Michael K.

(

2023

)

Motivation plays a key role in student academic success and wellbeing. Student use of eight motivational regulation strategies (MRS) and their motivation profiles were assessed in an initial sample of 737 first year ...

Broadmore, Sharon

(

University of Canterbury. Communication Disorders

,

2011

)

When listeners are presented with stimuli from multiple speakers versus single speakers in a perception experiment, decreased speech recognition accuracy and increased response time results. These findings have been ...

Yeap, Evelyn Ewe Lin

(

University of Canterbury

,

2021

)

The Malaysian Ministry of Higher Education has emphasised the importance of soft skills that higher learning institutions need to include in their curricula to graduate holistic, entrepreneurial and balanced students. Soft ...