Democratic aspects of Samoa's traditional matai system
(1999)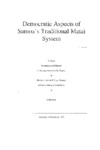 View/Open
Type of Content
Theses / Dissertations
Thesis Discipline
Political Science
Degree Name
Master of Arts
Language
English
Collections
Abstract
Over the years, there have been many accusations leveled at the village council of chiefs (fono a matai) in different Samoan villages for their role as the 'judicial', 'legislative' and 'executive' body. From a constitutional perspective, the village council of chiefs has been seen to continually overstep its authority in terms of issuing traditional punishments to village members. In respect of the latter, the matai have been accused of breaching fundamental rights of individuals such as when they impose banishment on villagers. Furthermore, the matais continual influencing of voters during parliamentary elections has also received much criticism. The criticism is due to the obvious reasons, firstly the matai influencing voters is in direct conflict with the ideas of democracy which stresses the freedom of the individuals to vote for whom they wish. Secondly, it breaches the whole concept of a 'secret ballot'. However, when one adopts a holistic view of Samoa's traditional system, one will find that the accusations leveled at the village council are not necessarily shared by Samoans themselves and that valid reasons are behind such actions by the matai. As a result, this study adopts the qualitative method of research in an attempt to explain why the matai execute such decisions which are seen by the West as co1:flicting with democratic ideas. Overall, the interviews and field research conducted for this study reveal the significant role of the 'fono a matai' as the judicial, legislative and executive of villages. In relation to the latter it is found that villagers are content with decisions and regulations set by the fono and that understanding the collective nature of Samoan culture helps in explaining the reasons behind actions of the matais which are deemed undemocratic by Westerners.
Keywords
Democracy--Samoa; Villages--Samoa; Chiefdoms--Samoa; Samoa--Politics and government
Rights
All Rights Reserved
Related items
Showing items related by title, author, creator and subject.
Robertson, Andrew Maxwell

(

1999

)

This thesis explores the relevance of philosophy for enviromental policy-making in liberal democratic states. The hypothesis is that the basic tenets of liberal democratic theory determine the worldview of western states, ...

Yao, Yao

(

University of Canterbury

,

2018

)

This research explored the impact of the colonial education system among the Maasai children in Laiboni Village near Arusha Region, located in the Northern Zone of Tanzania. Over the colonial period in Tanzania, missionaries ...

Mander, Kirsten Jane

(

University of Canterbury. National Centre for Research on Europe

,

2013

)

As the European Year of Citizens (2013) dawns, the European Union (EU) finds itself at a crossroads. One of the largest international organisations in the world, it has built a reputation as an international community model ...