The ecology and early life history of Notolabrus celidotus (Pisces: Labridae) around mussel farms in the Marlborough Sounds
(1993)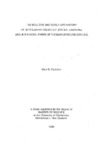 View/Open
Type of Content
Theses / Dissertations
Thesis Discipline
Zoology
Degree Name
Master of Science
Language
English
Collections
Abstract
The early life history of the labrid fish Noto!abrus celidotus (spotties) was studied around mussel farms in the Marlbrough Sounds. In both Kenepuru and Pelorus Sounds, juvenile fish (<120 mm SL) were most abundant among the shallow macro-algae of natural inshore areas. Relatively few small juveniles (<80 mm SL) were observed within mussel farms, while large juvenile and adult spotties were abundant near mooring blocks. The effect of temporal variation was only to enhance these spatial patterns. A manipulative experiment showed that some newly recruited juveniles were also closely associated with encrusting algae and sessile invertebrates on mooring ropes. However, since more than 85% of new recruits were observed in the macro-algae of natural inshore areas it appears that most spotties observed on mussel farms migrated there from inshore. Spotties were twice as abundant in Pelorus Sound as compared to Kenepuru, possibly due to greater macro-algal habitat for juvenile development. However, the density of new recruits was inversely related to the densities of juvenile and adult fish. A plankton survey during a period of peak spawning showed that, like newly recruited spotties, egg numbers were higher in Kenepuru Sound and inversely related to the densities of juvenile and adult fish. The importan·ce of locai hydrology is discussed with regard to the abundance patterns of these early life history stages. From histological examinations of mature spotties in both Kenepuru and Pelorus Sounds, periods of peak spawning were identified. Using age classes, growth rates of these fish were also determined. These were significantly greater in Kenepuru Sound, where densities were significantly lower. The paucity of shallow macro-algal habitat may act as a bottleneck in Kenepuru Sound, affecting juvenile densities. After this early period of dependence on macro-algae, spotties in Kenepuru Sound appear to grow very quickly compared to those in Pelorus Sound and other areas of New Zealand.
Keywords
Wrasses--Food; Notolabrus celidotus--Food; Notolabrus celidotus--Ecology; Predation (Biology); Mussel culture--New Zealand--Marlborough Sounds
Rights
All Rights Reserved
Related items
Showing items related by title, author, creator and subject.
Clarke, Christopher Balfour

(

1993

)

This thesis showed that the abundances of adult N. ce/idotus were highly variable around mussel farms. Within farms, they were most abundant around the anchor blocks and along the benthic areas beneath dropper lines. ...

Denny, Christopher Michael

(

University of Canterbury

,

1998

)

Notolabrus fucico/a, a large common labrid inhabiting shallow waters around New Zealand and Southern Australia, were collected monthly (Dec 1996 to Feb 1998) around Kaikoura. They were found to be pelagic synchronous ...

Burrows, C. J. (Colin James)

(

Department of Botany, University of Canterbury

,

1977

)

The Cass Field Station of the University of Canterbury was first built in 1914 among the mountains of the upper Waimakariri River Basin and this volume covers the history of the Station and the Cass district, including the ...