Commercialisation of electric assist utility trailer
(2020)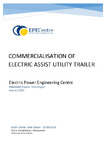 View/Open
Type of Content
Theses / Dissertations
Thesis Discipline
Engineering Management
Degree Name
Master of Engineering in Management
Language
English
Collections
Abstract
New technological innovations is currently the key aspect for sustainable development. There is a need for a more sustainable world due to factors like increase in carbon emissions (414 ppm) and transportation sector accounting for 28% of them. However, with the potential increase in electric vehicles fleet there also arises limitations such as towing trailers which consequently causes range anxiety. Thus, this paper focuses extensively to judge the market potential of a new technology conceptualised by the Electric Power and Engineering centre (EPECentre) titled 'The Electric Assist Utility Trailer'. The main value proposition of this trailer is safety, sustainability and accessibility. This project also focuses on the feasibility to commercialise the technology in New Zealand market. New Zealand currently has 17,831 EVs most of which are Nissan Leafs. The penetration of EVs in New Zealand has grown from 0.13% to 2% by 2019. The EV fleet is expected to dominate in the next 10 years facilitated by government policies, infrastructure and rise in renewable energy sources. The target market here are the owners of light EVs especially Nissan Leaf. The increase in EV fleet with more number of light EVs, paves a potential opportunity for electric trailer. Furthermore, a market analysis for light utility trailers was performed using the registered fleet data from Ministry of transport. The analysis showed slow to medium increase in light trailers with an average annual rate of 3%. A cost analysis was performed based on various reliable references including direct and indirect costs for which the final selling price was estimated for nearly $21,000 NZD. However, a sensitivity analysis was performed to estimate the selling price based on the varying Li-ion battery prices for which the least selling price would be $11,429 NZD. The cost analysis was fed to estimate the target market which was forecasted to be 2.6 million in 2025. The commercialisation plan for the EAUT was hindered by legal and political factors. According to Land Transport Act 1998, the EAUT might qualify as motor vehicle and this perception may develop a potential barrier to operate the trailer on the New Zealand roads. However, a law change may be required to make it road legal but it depends on the dominant penetration of EV market in New Zealand. To conclude, the EAUT is not feasible enough to be commercialised in the current market but it is recommended that the technology could be implemented for the caravan market in New Zealand since there is no similar patent filed.
Related items
Showing items related by title, author, creator and subject.
Kularatna N

;

Steyn-Ross DA

;

Silva Thotabaddadurage, Dr. Sadeeshvara

(

IEEE

,

2020

)

Transient-surge absorption capability of small/low cost supercapacitors (SCs) is already published. SCASA is a patented technique that led to the development of a high performance commercial surge protector which adheres ...

Kularatna N

;

Steyn-Ross DA

;

Silva Thotabaddadurage, Dr. Sadeeshvara

(

MDPI AG

,

2021

)

SCASA is a patented technique commercialized as a surge protector device (SPD) that adheres to UL-1449 test standards. Apart from the novel use of supercapacitors, SCASA design incorporates a coupled-inductor wound to a ...

Kokuhennadige S

;

Fernando J

;

Kularatna N

;

Steyn-Ross DA

;

Silva Thotabaddadurage, Dr. Sadeeshvara

(

IEEE

,

2021

)

Supercapacitors help building long time constant resistor-capacitor circuits. This property helps them withstand high voltage transient surges and dissipate transient energy in the resistive element of the circuit without ...