Three-dimensional contrast transfer functions in propagation-based tomography
(2022)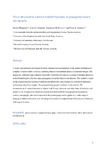 View/Open
Type of Content
Other
Authors
Thompson DA
Nesterets YI
Gureyev TE
Pavlov, Konstantin
show all
Abstract
A single-step method is developed for three-dimensional reconstruction of the spatial distribution of complex refractive index in weakly scattering objects from multiple planar transmission images. The images are collected using coherent or partially-coherent illumination at a range of incident directions in the Fresnel region after free-space propagation from the object to the detector. The method is based on the contrast transfer function formalism extended to the cases of partially-coherent illumination and strongly absorbing samples. The proposed tomographic methods can be used for 3D reconstruction of internal structure of objects with X-rays, electrons and other forms of radiation and matter waves. Compared to related previously published methods for propagation-based phase-contrast tomography, the results reported in the present paper can be applied to a wider range of imaging conditions and can be also advantageous in terms of computational efficiency and robustness with respect to noise.
Citation
Thompson DA, Nesterets YI, Pavlov KM, Gureyev TE (2022). Three-dimensional contrast transfer functions in propagation-based tomography.
This citation is automatically generated and may be unreliable. Use as a guide only.
Keywords
phase contrast; computed tomography; contrast transfer functions; three-dimensional reconstruction
ANZSRC Fields of Research
34 - Chemical sciences::3406 - Physical chemistry::340605 - Molecular imaging (incl. electron microscopy and neutron diffraction)
51 - Physical sciences::5105 - Medical and biological physics::510502 - Medical physics
Rights
All rights reserved unless otherwise stated
Related items
Showing items related by title, author, creator and subject.
Thompson D

;

Nesterets YI

;

Pavlov KM

;

Gureyev T

(

2018

)

The following paper describes a method for three-dimensional (3D) reconstruction of multi-material objects based on propagation-based X-ray phase-contrast tomography (PB-CT) with phase retrieval using the homogenous form ...

Alloo SJ

;

Paganin DM

;

Morgan KS

;

Gureyev TE

;

Mayo SC

;

Nesterets YI

;

Mohammadi S

;

Lockie D

;

Menk RH

;

Arfelli F

;

Kitchen MJ

;

Zanconati F

;

Dullin C

;

Tromba G

;

Croton LCP

;

Pavlov K

;

Pavlov, Konstantin

(

2022

)

Wan S

;

Arhatari BD

;

Nesterets YI

;

Mayo SC

;

Thompson D

;

Fox J

;

Kumar B

;

Prodanovic Z

;

Hausermann D

;

Maksimenko A

;

Hall C

;

Dimmock M

;

Lockie D

;

Rickard M

;

Gadomkar Z

;

Aminzadeh A

;

Vafa E

;

Peele A

;

Quiney HM

;

Lewis S

;

Gureyev TE

;

Brennan PC

;

Taba ST

;

Pavlov, Konstantin

(

SPIE-Intl Soc Optical Eng

,

2021

)

Purpose: Breast cancer is the most common cancer in women in developing and developed countries and is responsible for 15% of women's cancer deaths worldwide. Conventional absorption-based breast imaging techniques lack ...