3D environmental sound field auralisation - feasibility, development and business case (redacted version)
(2021)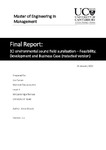 View/Open
Type of Content
Theses / Dissertations
Thesis Discipline
Engineering Management
Degree Name
Master of Engineering in Management
Language
English
Collections
Authors
Woods, Anna June Thompson
show all
Abstract
Environmental noise auralisation has the potential to improve communication between acoustic consultants and clients, project stakeholders and the community. This audible demonstration of the future sound environment enables non-technical stakeholders to experience proposed changes to the project site and surroundings realistically. Through the development of an environmental noise auralisation tool, context analysis, stakeholder interviews, and a business case, this report establishes that using environmental noise auralisation for community consultation is possible. For Marshall Day Acoustics' Christchurch office, there are potentially XXX projects per year that would use environmental noise auralisation. Auralisations are most accurate when presented in a controlled environment, so investment in a Listening Room would be necessary to provide this service to clients alongside further development of the prototype tool. Cash flow calculations for this investment incorporating XXX projects per year with a fixed fee of $XXX, estimated a 20-year net present value of $ XXX and a worst-case net present value of $ XXX. The project has an estimated present value index of $ XXX, representing a $ XXX return per dollar invested. Considering this financial return and the project's alignment with MDA's strategy and capabilities, the development of the environmental noise auralisation tool and the Listening Room is recommended.
Related items
Showing items related by title, author, creator and subject.
Hewitt, J.E.

;

Bell, R.

;

Costello, M.

;

Cummings, V.

;

Currie, K.

;

Ellis, J.

;

Francis, M.

;

Froude, V.

;

Gorman, R.

;

Hall, J.

;

Inglis, G.J.

;

MacDiarmid, A.

;

Mills, G.

;

Pinkerton, M.

;

Schiel, D.

;

Swales, A.

;

Law, C.

;

McBride, G.

;

Nodder, S.

;

Rowden, A.

;

Smith, M.

;

Thompson, D.

;

Torres, L.

;

Tuck, I.

;

Wing, S.

(

University of Canterbury. Biological Sciences

,

2014

)

Hatcher, Pascale

(

Wiley

,

2020

)

Mongolia is in the midst of one of the world's largest mining boom and the Gobi Desert is the construction site of what is expected to become the World's third-largest gold-copper mine: Oyu Tolgoi. The paper follows the ...

Wood CM

;

McGann CR

;

Cox BR

;

Green RA

;

Wotherspoon LM

;

Bradley, Brendon

(

2017

)

This study uses 44 high quality liquefaction case histories taken from 22 locations affected by the 2010-2011 Canterbury earthquake sequence to evaluate four commonly used CPT-VS correlations (i.e., Robertson, 2009; Hegazy ...