Comparative effects of perirhinal cortex and anterior thalamic nuclei lesions on radial-maze learning, spontaneous object recognition and configural learning
(2001)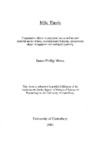 View/Open
Type of Content
Theses / Dissertations
Thesis Discipline
Psychology
Degree Name
Master of Science
Language
English
Collections
Abstract
The anterior thalamic nuclei (ATN) and the perirhinal cortex (PRC) have been differentially implicated in independent memory systems subserving spatial learning and object recognition systems respectively (Aggleton & Brown, 1999). A more traditional view is that these two main regions should sub serve a single declarative memory system (Squire & Zola-Morgan, 1991). This study explicitly examined the comparative effects of ATN and PRC lesions in a spontaneous object recognition task (in an open field), spatial memory (in a 12-arm radial maze), and elemental and configural cue learning (also in the radial maze). On the spontaneous object recognition test no group differences were detected even when differing (80sec, 5min, 14min, 40min) delay times were introduced, providing an indication that neither the ATN nor PRC are essential for object recognition. For spatial memory, in both delayed (20sec, 5min, 14min, 40min) and standard versions, the ATN group demonstrated a marked impairment in comparison to both the Sham and PRC groups. The only effect of PRC lesions was to improve performance during the transition from the standard to delay procedure. These findings conflict with Liu & Bilkey's (1999) suggestion that the PRC is part of a temporal brain system subserving spatial memory. The PRC does however, appear to play a part in associative learning of complex objects, as these lesions produced impairments on the elemental-cue learning task and the configural-cue learning task, whereas ATN lesions had no detrimental effects on cue association learning. The results of this study confirm the differential involvement of the ATN and PRC in learning and memory but provide only partial support for Aggleton & Brown's (1999) specific hypothesis of dual memory systems responsible for anterograde amnesia.
Keywords
Memory--Physiological aspects; Learning--Physiological aspects; Brain--Localization of functions; Thalamus; Recognition (Psychology)--Physiological aspects; Space perception--Physiological aspects; Amnesia--Physiological aspects
Rights
All Rights Reserved
Related items
Showing items related by title, author, creator and subject.
Bell, Rati

(

University of Canterbury. Biological Sciences

,

2007

)

Diencephalic amnesia is thought to be the result of damage to a single thalamic structure that is responsible for the memory impairment. However, an alternative view is that different thalamic structures contribute to the ...

Harland, Bruce

(

University of Canterbury. Psychology

,

2013

)

The anterior thalamic nuclei (ATN) are a critical part of an extended hippocampal system that supports key elements of episodic memory. Damage or disconnection of the ATN is a component of clinical conditions associated ...

Byatt, Graham

(

University of Canterbury

,

1995

)

Controversy still surrounds the neural bases of diencephalic amnesia. Recent research in rats suggests that incidental damage to the anterior thalamus (AT) may be responsible for impairments following other experimental ...