Reading-related activities of six Down's Syndrome children mainstreamed in New Zealand primary schools : an observational study
(1988)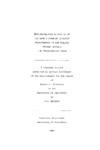 View/Open
Type of Content
Theses / Dissertations
Thesis Discipline
Education
Degree Name
Master of Education
Language
English
Collections
Abstract
Six young children with Down's Syndrome, mainstreamed in state primary schools, were observed in three school reading-related settings. Videorecordings, running records, informal interviews and questionnaires were used to gather information about the quantity and type of teacher questions, interactions and reinforcement directed to subjects and other pupils. Data about the subjects' responses, participation patterns, and reading-related activities at home, were included. While not prescriptive, this information was intended to provide useful initial strategies for future teachers of such mainstreamed pupils. More than twice as many questions and interactions were provided for Down's Syndrome children to respond to than their peers. The types of interactions and reinforcement were related to subject expectation level in small group settings, and t0 the self-motivation level of subjects in large group settings. Preferred reading-related activities under free choice conditions and at home, were also related to subject expectation level. Parents valued and encouraged reading skills, and reported that all subjects liked books and reading. Verbal responses were elicited more frequently through individual than general questions and interactions. Teachers interacted more frequently with Down's Syndrome children than other pupils, to increase their active participation in the task, and thereby improve their learning. In large group settings this sometimes included giving the subject a specific task to maintain motivation. Further investigation is required to assess whether increased active participation in reading lessons does, in fact, lead to improve reading ability.
Keywords
Down syndrome--Patients--Education (Primary)--New Zealand--Christchurch
Rights
All Rights Reserved
Related items
Showing items related by title, author, creator and subject.
Rietveld, C.M.

(

University of Canterbury. School of Educational Studies and Human DevelopmentUniversity of Canterbury. Records

,

1989

)

Four girls and two boys with Down's Syndrome (D.S.) were observed a year after starting school and some 3-4 years later in their regular classrooms. Data was collected on their classroom functioning, social interaction ...

Rietveld, C.M.

(

University of Canterbury. School of Educational Studies and Human Development

,

2007

)

The purpose of this study was to investigate the process of transition from home to early childhood centre or playgroup for three children with and three children without Down Syndrome (DS). This qualitative study explored ...

Rietveld, C.M.

(

University of Canterbury. School of Educational Studies and Human Development

,

2009

)

Discrepancies have been known to occur between parents and teachers' reports of inclusion and children's actual experiences of inclusion. This qualitative study of 3 children with Down Syndrome (DS) and their peers (aged ...